Terrence Malick Still Wants To Make IMAX Film 'Voyage Of Time'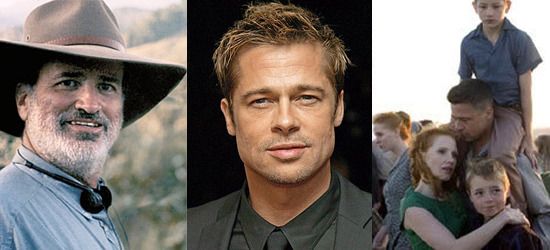 The past couple years have been slightly confusing with respect to Terrence Malick's slate of new films. We knew he was making The Tree of Life, which opens limited this weekend after premiering last week at Cannes, where it won the Palme d'Or. For some time it also seemed like he had spun some Tree ideas off into a separate IMAX film (possibly a documentary) called Voyage of Time. But as the release of The Tree of Life approached, all talk of and info on Voyage of Time seemed to dry up. Had the movie been absorbed back into Tree, in the form of that film's cosmic sequences?
Apparently not. Producer Bill Pohlad spoke to press in Hollywood this evening for the local premiere of The Tree of Life, and he said that Terrence Malick still wants to make the IMAX film. Actress Jessica Chastain was also on hand, and she spoke a bit about working with the director, and the small part she shot for his other upcoming film, a modern drama that has been tentatively called The Burial.
ComingSoon reports that Bill Pohlad said of Voyage of Time,
It's still a strong desire of Terry's, and we're all kind of working on getting it together... There will be footage that we shot during the course of 'Tree of Life' that we shot during that movie, but it won't be that same footage.
Asked if any Tree of Life characters would appear, or if the film would be an expansion of Tree's cosmic sequence, he suggested we should expect more cosmic stuff, but that things could change as new footage is being shot.
In 2009 we'd heard that The Tree of Life star Brad Pitt might narrate the IMAX film, but at this point there is no firm confirmation or denial, and Terrence Malick being the slow, intuitive and reclusive filmmaker that he is, I wouldn't expect any confirmation for some time.
Jessica Chastain also addressed the work she did on the modern romantic drama that may be called The Burial (but probably won't):
I feel weird saying I was in two [Malick] films... I can say I was on two sets. I'm in one film and I was on another set. I don't know if I'm going to be in that film. It was a small [part]. I was only there for two days.
Despite the fact that this is the film we might next see from Malick, it remains just as mysterious as Voyage of Time. We know the cast includes Ben Affleck, Rachel McAdams, Javier Bardem and Olga Kurylenko, but that's it. Still, given the fact that we often wait years between getting even small grains of info about Terrence Malick films, this counts as a bonanza.