Keanu Reeves Talks From The Set Of '47 Ronin'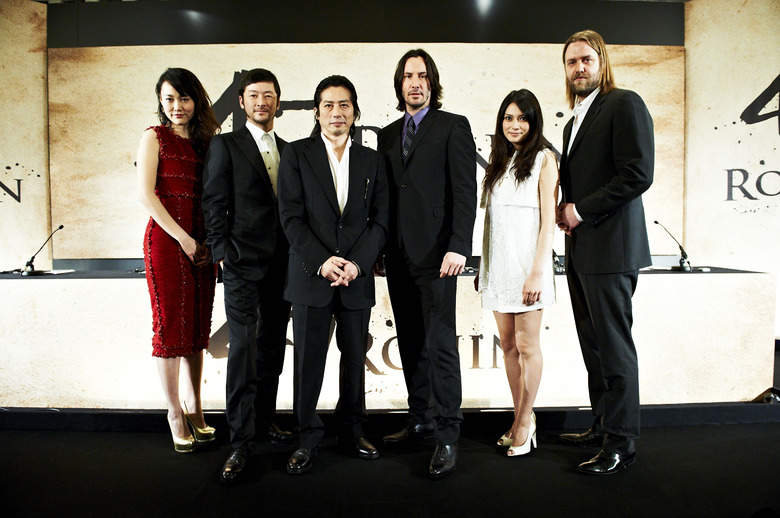 Unless someone is invited to go to set by a studio, actors rarely talk in public during the filming of a major Hollywood motion picture. Keanu Reeves, however, who is currently shooting Universal's 3D action film 47 Ronin, directed by Carl Erik Rinsch, took some time off from shooting the film to speak to the Los Angeles Times. He'd just finished 34 days of shooting in Budapest, Hungary with the production now scheduled to move to London, England. During the discussion, Reeves dropped several new nuggets of information about the film, scheduled for release November 2012, including what language it would be in, his character motivations and more. Read his quotes after the jump.
Reeves spoke at length with the Los Angeles Times Hero Complex and said that though the new version of the 47 Ronin is slightly different from previous incarnations, of which there are many, much respect was taken with the story:
Japanese kids grow up with this story told to them. They hear it from family and they learn it in school, it's part of the culture. It's been made into movies many times and on television. It's like our westerns, the story keeps being told.  It's been reworked in some ways [for this new film] but with great care and respect
Among the differences are that Reeves' character Kai, "the half-breed, the outcast in the group,"  is totally new to the story, invented for this version. He's a half-English, half-Japanese man who falls in with the samurai on the quest to avenge their master, and eventually falls in love with the master's daughter.
There's a sadness about [Kai] and I admire the grace he shows in response to other people's feelings. He doesn't have anger about the way he is viewed, but there is sadness and I've found that an interesting thing to work with.
The original legend of the 47 Ronin was based on actual facts from the 18th century but, over time, it's evolved into more of a myth. To that end, this updated version of the film is more fantastic, featuring witches, giants and more. They also decided to shoot the film in both English and Japanese (each take is done in both languages) and while Reeves is struggling with that, he's struggling more with the sword fighting:
I haven't done two-handed sword before so it was pretty cool to learn the basics and I've been building on that. There's a definite style to this sword and it's very fast I'm trying to keep up and learn as I go.
I guess Tank forgot to load that program in The Matrix.
Finally, this is Reeves' first 3D film and he described the process as "very immersive, very of-the-moment," adding the following:
We're trying to make a movie with a  lot of depth and in more ways than one.
For more on the film, lead over to the Hero Complex. Are you excited for 47 Ronin?
Editor's Note: A previous version of this story was published with the text missing. We apologize for the confusion.