Theme Park Bits: Blueprints For Possible Interactive 'Star Wars' Dogfight Roller Coaster, $1 Billion 'Star Trek' Theme Park Coming, Two 'Green Lantern' Coasters Open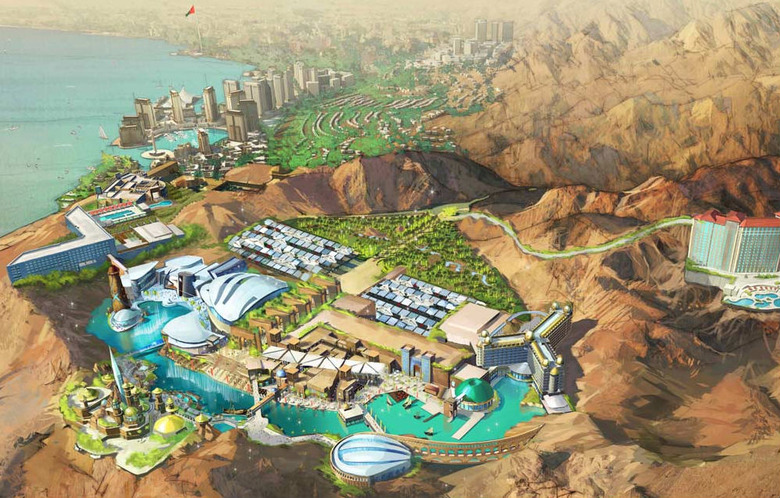 On the topic of movie themed theme park rides, most of the chatter as of late has been about Star Tours: The Adventures Continue. The new 3D ride opened over the weekend at Walt Disney World in Orlando and had its soft opening at Disneyland in Anaheim too, leading up to its June 3 opening there. But Star Tours isn't the only attraction opening based on a popular pop culture property.
Six Flags Great Adventure in New Jersey and Six Flags Magic Mountain in California both have Green Lantern roller coasters opening this summer plus, there are rumors of a $1 billion Star Trek theme park being built in Jordan (seen above) and some blueprints have leaked of a possible new ride being conceived at Disney that will be an interactive roller coaster version of the Death Star trench run in the first Star Wars.
Read more about, and see images of, all this after the jump.
Let's go from most realistic to most theoretical. It's not exactly news, but since we're on the topic of theme park rides, it's worth mentioning that both Six Flags Magic Mountain in Los Angeles, CA and Six Flags Great Adventure in Jackson, NJ both have Green Lantern roller coasters opening up very soon.
First, "Green Lantern" (no post script) officially opens at Great Adventure New Jersey on Wednesday. It's more or less your basic roller coaster except that it's a standing coaster. You can find more info about it here and then check the video.
Second, at Magic Mountain in California, "Green Lantern First Flight" is a totally unique roller coaster unlike anything else in the world. According to the official site:
Fearless riders will brave the ride sitting in eight-person vehicles — four abreast and back-to-back, each rotating independently. The two minute thrill begins with riders going up the 107-foot left hill before spinning their way down through 828-feet of twisted vertical track, featuring three, 360-degree head-over-hill spins.
You can get a glimpse of what that means, and that park's new Superman update, in this video. It opens in late spring. Which seems like it should be soon.
Next up, we'll go to the Middle East where $1 billion is being allotted to building a theme park based on Star Trek in Aqaba, Jordan. Seriously. It's just being conceptualized now but it seems like it'll be 184 acres of environmentally sound, state of the art technology based on the 2009 J.J. Abrams film. The whole thing seems kind of weird but check out the below conceptual drawing below and head over to Hotelier (with a heads up from Geek Tyrant) for more information.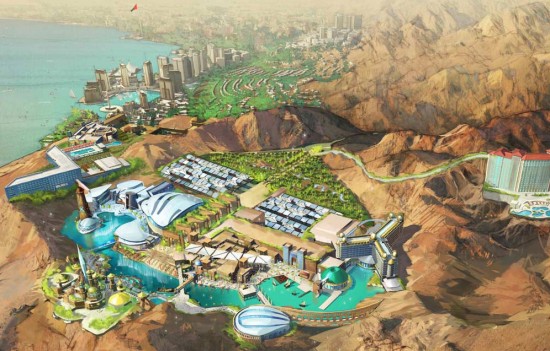 Finally, while the Green Lantern coasters are definite and the Star Trek park sounds like a possibility, this ride is much more conceptual.
Imagine getting into a roller coaster that looks like an X-Wing. Besides you, a coaster that looks like a Tie Fighter. Around you, everything looks like the Death Star trench and as the two cars begin to twist and turn on different tracks, your job is to destroy the other before they accomplish their mission. Sounds fun, right? Well, according to these conceptual drawing that were posted on the forums at WDWMagic (by way of Bleeding Cool) they seem to show a design for a Tie Fighter/X-Wing dogfight roller coaster that takes place on the Death Star.
There are a ton of details in each of these images. Notice that the X-Wing and Tie Fighter photos have seats in the top and that the cross section photo shows several rows, all with guns. Plus the POV photo shows "damage." So, taking into consideration the notes on the map photo for the Millennium Falcon and Trench, it seems like it's definitely some kind of battle ride where two cars are going in different directions. But honestly, we don't know. We don't even know if this is real, only that the person who posted them claims these blueprints were "submitted for patent." If we find out more, of course, we'll let you know. But your mind can begin racing.
Which of these adventurous attractions is the most exciting?