Cannes Showstopper 'We Need To Talk About Kevin' Picked Up By Oscilloscope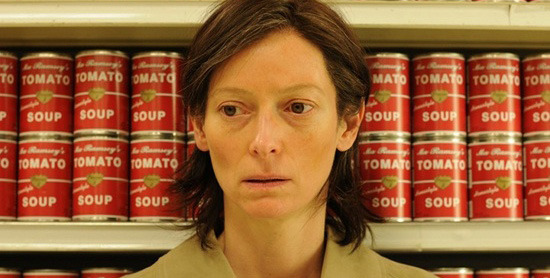 Forgive me, but we need to talk about Lynne Ramsay. She has made only three films, the first two being Ratcatcher and Morvern Callar. Both are great pieces of work — Ratcatcher is a movie that I go back to again and again. Others can have their Amblin movies as snapshots back into their youth; when I need that sort of thing I go to George Washington, and to Ratcatcher.
Lynne Ramsay's career was almost sidelined in a weird way when after spending significant time developing a film adaptation of Alice Seybold's novel The Lovely Bones, she watched as Peter Jackson strolled in, took the project, and turned out a turgid, embarrassing Classics Illustrated version of the novel.
But she returns this year, finally, with We Need to Talk About Kevin, an adaptation of Lionel Shriver's 2003 novel starring Tilda Swinton, Ezra Miller and John C. Reilly. The film, which digs deep into the mind of a mother dealing with her sociopathic son, wowed 'em at Cannes ("one of the most beautifully bleak psychological fake-outs the cinema's given us in years," said James Rocci) and became the presumed frontrunner for both the Palme d'Or and Best Actress awards. Both of those formal accolades proved elusive (going instead to The Tree of Life and Melancholia/Kirsten Dunst, respectively) and for a minute it looked like the tough, searing nature of the film would make it a difficult one to sell at the marketplace, too.
The good news here is that We Need to Talk About Kevin will get a fall release. The catch is that it will come via Oscilloscope, while enthusiastic, isn't huge. So you might not get to see a theatrical presentation of the film. But you will get to see it, and that's all that matters. The full press release is after the break.
HIGHLY-ACCLAIMED LYNNE RAMSAY DIRECTED, TILDA SWINTON STARRER WE NEED TO TALK ABOUT KEVIN ACQUIRED BY OSCILLOSCOPE LABORATORIES
Film to be released in theaters timed to the Academy Awards® this coming Winter
May 23, 2011 ­ Oscilloscope Laboratories announced today the company has acquired from Luc Roeg's Independent Film Company North American distribution rights of the critically acclaimed and much talked about 2011 Cannes Film Festival competition entry WE NEED TO TALK ABOUT KEVIN, the highly-anticipated third feature from director Lynne Ramsay (RATCATCHER and MORVERN CALLAR).  Oscilloscope will release WE NEED TO TALK ABOUT KEVIN theatrically this Winter, accompanied by an awards campaign.
A suspenseful and psychologically gripping exploration into a parent dealing with her child doing the unthinkable, WE NEED TO TALK ABOUT KEVIN is told from the perspective of Eva, played by Tilda Swinton in a tour-de-force performance.
Always an ambivalent mother, Eva and Kevin have had a contentious relationship literally from Kevin's birth.   Kevin (Ezra Miller), now 15-years-old, escalates the stakes when he commits a heinous act, leaving Eva to grapple with her feelings of grief and responsibility, as well as the ire of the community-at-large.  WE NEED TO TALK ABOUT KEVIN explores nature vs. nurture on a whole new level as Eva¹s own culpability is measured against Kevin¹s innate evilness, while Ramsay¹s masterful storytelling leaves enough moral ambiguity to keep the debate going.
Adam Yauch, head of Oscilloscope Laboratories said:  "We are honored to be working with Lynne, Tilda, John, and Ezra to release this masterpiece– the most intense thriller I've seen since Polanski's ROSEMARY'S BABY.  I was on the edge of my seat throughout and it was clear I was in the capable hands of a master filmmaker, who I'm now proud to see join all our other great filmmakers as a member of the O-Scope family."
With a screenplay by Lynne Ramsay & Rory Stewart Kinnear, WE NEED TO TALK ABOUT KEVIN is based on the novel by Lionel Shriver.  The film also stars John C. Reilly as Eva's husband Franklin, and Ezra Miller in a breakout performance as the titular Kevin.