'A Little Help' Trailer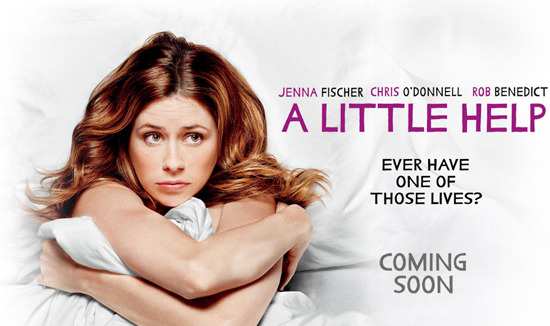 In 2009 The King of Queens and Ned and Stacey exec producer Michael J. Weithorn wrote and directed his first feature, called A Little Help. He scored in a couple ways with the cast, which features Jenna Fischer along with Kim Coates, Lesley Ann Warren, Aida Turturro and Chris O'Donnell. But the film turned out as a classically middle of the road indie drama  that played at a couple festivals (starting with the Seattle FF in May 2010) and then sat around waiting for a distributor to throw it some love. Now Freestyle Releasing and Secret Handshake are finally getting the film into theaters this June, but a quick look at the new trailer will clue you in on what has taken so long.
This might be one of the most difficult types of films to get right. This trailer isn't terrible, but there's also nothing in it to suggest the movie is very good. It suggests that the movie will follow suit and fall into that massive gulf between pointed and pointless drama.
Hit Apple for the HD version, and possibly the shortest official synopsis of the year:
A LITTLE HELP is the story – funny, touching, sad, and real – of an ordinary person, engulfed by ordinary events, making an extraordinary emotional journey.
There is also this alternate sales trailer, which has been floating around for a year. In some ways it is a better trailer because it shows more of Jenna Fischer's character's flaws, rather than just making her look like she's permanently stuck in 'harried mom' mode. But the film doesn't look much better as a whole:
That YouTube page also gives a much longer synopsis. I've truncated it somewhat so as not to give the entire movie away, but the two trailers taken together will probably do some of that work anyway:
Set in suburban Long Island in the post-9/11 summer of 2002, A LITTLE HELP examines a period of chaotic and rather bizarre upheaval in the life of dental hygienist Laura Pehlke (Jenna Fischer). Up to now Laura has had the wind at her back in life by virtue of her good looks and effortless charisma. But lately things have begun to take some dark and difficult turns. Her marriage to real estate agent Bob Pehlke (Chris ODonnell) has become tense and loveless Laura even has suspicions that hes cheating and her relationship with her 12-year-old son Dennis (Daniel Yelsky) has become strained as well, his emerging adolescence having turned him typically sullen and hostile. Laura has not been dealing well with all this shes drinking and smoking too much; her self-esteem and confidence are in free fall.
When Bob dies suddenly the result of a heart abnormality that goes undetected by an ER physician Laura is a deer in the headlights. Her intrusive mother, Joan (Lesley Ann Warren) and sister, Kathy (Brooke Smith) step in to fill the vacuum; they pressure Laura to send Dennis to an exclusive private school, and force her to hire a ruthless lawyer, Mel Kaminsky (Kim Coates), to file a malpractice lawsuit against the doctor who misdiagnosed Bob. As a result of these decisions, Laura soon finds herself in the middle of a huge, bizarre lie: at his new school, feeling like a loser and an outsider, Dennis impulsively tells the other kids that his father was a fireman who died in 9/11, then pleads with Laura not to tell people the truth because of the humiliation he would suffer. Laura reluctantly agrees, and soon finds herself a celebrity in the school community the widow of a 9/11 hero.