Casting Bits: Tommy Lee Jones Confirmed For 'Great Hope Springs;' Maggie Gyllenhaal In 'Voice From The Stone;' Holly Hunter In 'Still I Rise' And 'Romeo And Juliet'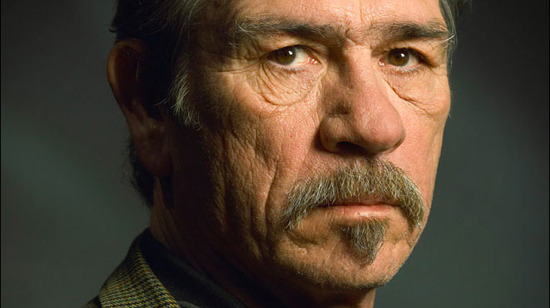 Great Hope Springs, the movie in which Meryl Streep plays one half of a married couple spending a week of marriage and sex therapy with a famous therapist (Steve Carell) has gone through a few possible male leads. Jeff Bridges was mentioned early on, and James Gandolfini looked like a possibility at one point. (Those were when Mike Nichols was going to direct, but now The Devil Wears Prada director David Frankel will make the film instead.)Tommy Lee Jones was next in the casting rumor series, but now he definitively has the gig playing husband to Meryl Streep. That's a great pairing, and while the director may not be my top choice, I'm still as interested in watching these two actors trade barbs as I was when the idea first came up.
The synopsis for Great Hope Springs is after the break, along with news of new gigs for Maggie Gyllenhaal and Holly Hunter.
Many years of marriage have left Maeve (Streep) wanting to spice things up and reconnect with her husband.  When she hears of a famed relationship guru (Carell) in the town of Great Hope Springs, she must persuade her sceptical husband (Jones) to get on a plane for an intense week of marriage and sex therapy.  Getting there was hard enough...now shedding their bedroom hang ups, learning some new moves and rediscovering their youthful spark is when the real adventure begins.
And then there's Voice From the Stone, a new picture with Maggie Gyllenhaal now set to play "a nurse trying to help a boy haunted by malevolent forces within the walls of an old house in the Italian countryside." So, The Others or The Orphanage in Italy? Perhaps. The film is based on Silvio Raffo's novel Le Voce della pietra, but the book is out of print in the US and a reliable synopsis is difficult to come by. We know that Maggie's character begins some sort of relationship with the boy's father, and is eventually haunted by the same force that torments the boy. Eric Howell will direct. [Variety]
Speaking of Maggie Gyllenhaal, she's already cast in Still I Rise, a 'speaking truth to power' film about a teacher trying to improve a Pittsburgh inner-city school. Viola Davis and Oscar Isaac are in the cast as well, and Holly Hunter has just joined as the head of the teacher's union. Daniel Barnz (Beastly — uh-oh) directs and rewrote the script by Brin Hill.
Holly Hunter may also end up in the new version of Romeo and Juliet that has Hailee Steinfeld set to appear as Juliet. This one has Carlo Carlei (Fluke) directing a script by Julian Fellowes (Gosford Park, The Young Victoria, The Tourist). I can't say I'm much interested in seeing Romeo and Juliet again, but these first two casting choices are great. And Julian Fellowes could make it worth a look. [Deadline]