Early Buzz: Jonathan Levine's '50/50' – "If It Wasn't So Funny, And Occasionally Crude, I'd Call This An Oscar Contender"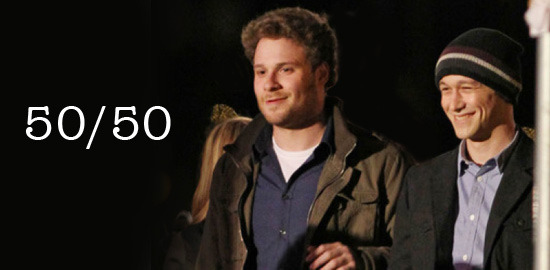 I was a huge fan/supporter of Jonathan Levine's 2008 film The Wackness, which premiered years ago at Sundance and got dumped at the box office by Sony Pictures Classics. Levine has had some tough luck in terms of distributors — his debut feature, the critically acclaimed horror film All The Boys Love Mandy Lane premiered at the 2006 Toronto International Film Festival, yet has still never gotten a US release (both theatrically and even on dvd/blu-ray). But as they say, the third times the charm, right?
50/50 (originally titled I'm With Cancer) is an autobiographical story based on the experiences of Will Reiser, a producer on HBO's Da Ali G Show and VH1's Best Week Ever. Joseph Gordon-Levitt stars as Adam, a 27-year-old who is diagnosed with cancer, and his sometimes funny "struggle to beat the disease." The film, funded with Summit Entertainment's giant pile of Twilight money, co-stars Seth Rogen, Anna Kendrick, Bryce Dallas Howard and Anjelica Huston. 50/50 won't hit theaters until September 30th 2011, probably after a film festival run. We should see a trailer next week.
I've heard some amazing buzz about the film, and now I have something in print. /Film Reader Ben has seen a completed cut of the film, and has filed a reader review (much in line with what I've heard). Read his thoughts after the jump.
Here is the early reaction from /Film reader Ben:"50/50" went through a few name changes: first "Live With It", then "I'm With Cancer" before finally settling on its current name. But a more apt title would have been "Mood Whiplash: The Movie". The film was announced as a comedy, but it isn't really, nor is it a dramedy or a seriocomedy. It's just a frequently hilarious drama. And while the two sides do feel disjointed, they're each so individually strong that, combined with the sincere, grounded tone, the movie ultimately manages to transcend its few faults.The plot is simple. There's no hook, no ticking time bomb or ironic premise. It's about Adam (Joseph Gordon-Levitt) getting, and dealing with, cancer. He goes to bars to get laid with best friend Kyle (Seth Rogen), deals with his noncommittal girlfriend Rachael (Bryce Dallas Howard), and starts therapy with Katie (Anna Kendrick), who is still in training for her doctorate. There's no ticking time bomb for our protagonist to work towards, no obvious antagonist (aside from the cancer), but the film manages to stay engaging through its earnest feel and absolutely stellar performances.Before I delve into the many positives, I should probably point out a few cons – Adam is diagnosed with cancer 7-8 minutes into the movie. This means we don't get to see much of his personality before the diagnosis, and therefore his character arc once he starts dealing with the sickness isn't as immediately moving as it could be. And the aforementioned mood changes are absolutely jarring – we go from raunchy, gut-busting Seth Rogen scenes to dark, moody montages of Adam contemplating his life.In fact, Seth Rogen's character may be one of the biggest problems critics have with this movie – while he is fleshed out to an endearing degree in the end, for the majority of the movie, he appears to have walked straight off an Apatow set. He's even funnier than usual here, but his dialogue is a constant stream of crude jokes, which sticks out like a sore thumb amidst the more sparing character-based comedy of the rest of the film. However, the movie's saving grace when it comes to comedy is that all of the characters are realistically funny – each of them has an individual sense of humor and some have funny lines much less frequently than others. So Rogen is really just a comical, clownish best friend who, by nature, jokes around more than the others.So I assure you that not only is it uproarious, but the serious, emotional center works just as well if not better due to simply astonishing acting from Gordon-Levitt, Kendrick, Howard, and, later in the story, Rogen. JGL, as usual, completely disappears in the role, once again playing a radically different character than what he's done before without using flashy tics. He also milks his face for all it's worth, with some of the film's biggest laughs coming simply from his expressions. Kendrick plays a character similar in pep and self-imposed formality to Natalie from "Up In The Air", and once again, she excels at creating someone quirky, but completely natural and unaffected.The plot goes nowhere you don't expect, but the execution is grand enough to make it feel inevitable rather than predictable. Most important is the tone – when you first heard Gordon-Levitt and Rogen were starring in a comedy about cancer, you may have expected something a bit wackier than what it really is. This isn't like Bridesmaids or Bad Teacher or Horrible Bosses or any of the other big comedies this year. The attractive, sterile cinematography and masterful performances ground the film in a very high degree of verisimilitude. The eating of pot muffins is probably the goofiest thing that happens in the whole movie – it gets almost all of its comedy from simple stuff: Adam shaving his head, walking through the hospital, talking about volcanoes, that sort of thing. There are no big, crazy comedic set pieces, and this restraint is a large part of what makes it seem so real.BEGIN MILD SPOILERSYou can see the romance between Gordon-Levitt and Kendrick coming the moment you first see them onscreen together, and as the movie progressed, I became increasingly worried about a trite resolution to this. Kendrick, being his therapist, initially scolds him for his very mild advances, but sexual tension is steadily building. When it's released toward the end, it's one of the most heartfelt scenes of the whole movie, and the understated dialogue along with flawless delivery from the two actors turns the whole relationship into something that seems natural and integral to the story.Without giving anything away, I can reassure you that the ending will have you failing to hold back sobs, but it does this without devolving into sap or in any way changing the tone. One of the film's greatest assets is its frank outlook on cancer – it isn't cynical about life, but it certainly isn't inspirational. The resolution is refreshingly down-to-earth, and it manages to provoke discussion without being either cheesy or harsh.END SPOILERSSo sure, it's pretty clumsy switching back and forth from great comedy to great drama, but if it wasn't so funny, and occasionally crude, I'd call this an Oscar contender. Award-worthy leads, a straightforward but powerful script, and a pleasing resistance to sentimentality or pessimism elevates 50/50 past its problems. Predictable? Perhaps. Tonally disjointed? Certainly. But it's executed with such immense talent and sincerity that those flaws become nothing more than nitpicks.