First Look: Jonah Hill And Channing Tatum In '21 Jump Street,' Plus 'Blackbird' With Eric Bana And Olivia WIlde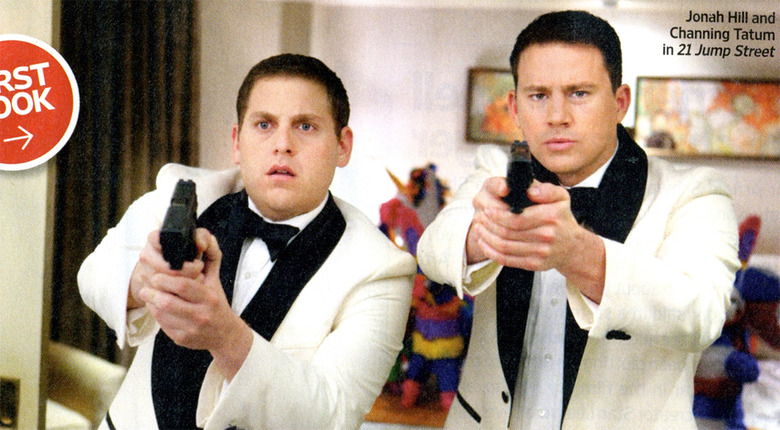 The current issue of Entertainment Weekly (you know, the one with Jennifer Lawrence on the cover and on the inside) doesn't only have the first look at The Hunger Games, it also has the first look at 21 Jump Street starring Jonah Hill and Channing Tatum and Blackbird with Eric Bana, Olivia Wilde and Charlie Hunnan. One's a comedy, the other's a thriller and you can see the photos and read quotes from the stars after the jump.
Though these images are from Entertainment Weekly, our friends at The Film Stage were lucky enough to snag the issue early and import the scans. Here you go.
We already know a lot about 21 Jump Street, such as the fact that it's about Hill and Tatum playing undercover cops who go back to high school, Rob Riggle, Ice Cude, Brie Larson and others will co-star, Johnny Depp is going to cameo and it's directed by Phil Lord and Chris Miller (Cloudy With A Chance of Meatballs). The EW article does give a few other morsels though in the form of this quote from Hill, who is also a producer:
It's essentially a story about guys who didn't get it right the first time going back to school. It's almost like a time-travel movie where they have the answers that they didn't know then. Like Back to the Future Part II: They go back, but now they have the almanac.
He also assures everyone that jokes will be made about how much older he and Tatum would look in a high school. 21 Jump Street is scheduled for release March 16, 2012.
A film we know less about is Blackbird, the English language debut of Oscar-winning director Stefan Ruzowitzky (The Counterfeiters). It was previously described as "two desperate sibling fugitives (Eric Bana and Olivia Wilde) on the run who subsequently collide with the holiday homecoming of a troubled ex-boxer (Charlie Hunnam)." That's still the plot, but the EW article expands a bit more with a quote from Wilde:
I love the tension between siblings. It's an abusive relationship, emotionally, and my character has a bit of a Stockholm Syndrome that keeps her as her brother's prisoner.
Sounds very dramatic and tense and those cold Simple Plan/Hanna-eque images certainly add to that feeling. And while the 21 Jump Street image doesn't inspire the same kind of gut reaction, we hope it lives up to its legacy. What do you think of the images?