Early Buzz And Clips From Pedro Almodovar's 'The Skin I Live In'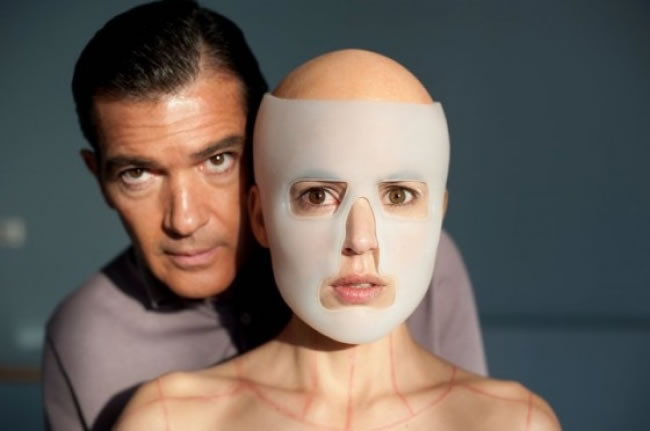 Another of our most-anticipated Cannes premieres was shown to press early today, Cannes time, and reviews are hitting the web. Pedro Almodovar's The Skin I Live In represents his first collaboration with actor Antonio Banderas in twenty years, and also marks a break in subject matter for the director.
Based on Thierry Jonquet's novel Tarantula (aka Mygale), the story follows an ambitious plastic surgeon (Banderas) whose wife was burned in an accident, leading him to attempt to synthesize a new, superior form of human skin. The picture seems like a weird medical horror/thriller story, and indeed, at the film's press conference, the director said, "It's a thriller indeed because it fits in with my life at present. Throughout my career as a director, I've worked in different genres—comedy, drama and now I'm in a thriller period. Through thrillers, you can touch on other types of genre. I don't think it's completely necessary to stick to the rules of a type of genre like people naively did in the '50s."
Reviews so far praise elements (Banderas' performance) while clucking a bit over the fact that the film isn't supremely focused. That seems to be par for the course at Cannes this year, where there has been little overwhelming critical consensus about any film other than Lynne Ramsay's widely-praised We Need to Talk About Kevin. We've got three clips and a small review sampling for The Skin I Live In, after the break.
Empire has one of the most enthusiastic takes I've seen, calling it "one of [Almodovar's] strongest in years." But even this rave points to the fact that the movie covers, shall we say, a lot of stylistic and narrative ground:
I wasn't sure at first which way Almodovar was going, but the surprise is that it's going in many different directions all at the same time. The opening scenes are somewhat gothic, replete with an old dark house setting (all that's missing is a thunderstorm), and the housekeeper's story is just the first of many surprises. From here, the film transitions into a Hitchcockian (or is it giallo-style?) thriller, filmed with Almodovar's usual gorgeous palette, here looking perhaps a bit more like the shadowy Roger Corman films of the early 60s (the Edgar Allen Poe cycle) than his recent Technicolour fiestas.
Eric Kohn at IndieWire just comes out and calls the film "messy," and "a meandering, tonally confused work" even as the director "has a good time with outrageous plot twists and offbeat sexual intrigue." The basic rundown: "he lets the mess pile up and enjoys it," though the review does praise Antonio Banderas, who "brings an unlikely swagger to the mad scientist mold and makes it work."
(Antonio Banderas said that he had to change up his style a bit for this role: "I couldn't act in the way that I normally do—no smiling or laughing. Pedro forbid me to do that. There's this absolute coldness and a numbness with these characters that's chilling.")
James Rocci falls in the middle ground between those reviews as he writes for The Playlist, saying,
Much like its fellow Cannes Competition selection entry "Sleeping Beauty," The Skin I Live In is an unsettling dance of thanatos and eros, death and sex; unlike the Australian film's slow and swooning ballet, Almodovar gives us a swift and shimmering tarantella, the dance that began as a folk remedy for venomous spider bites. There's something poisonous in "The Skin I Live In"—you have to wonder if it's an unparalleled example of misogyny or an unparalleled refutation of it, if Almodovar's embracing the pulp and pop melodrama of the material or mocking it—and something in it lingers even when you try and shake it.  Almodóvar's film may seem thin at first glance, but it's exactly as thin as the skin we wear between the outer world and the blood in our bodies—and just as uniquely beautiful and distinctively imperfect.
These clips come courtesy of Rope of Silicon. Sony Pictures Classics will release The Skin I Live In later this year in the US.