James Cameron's 'Titanic' 3D Re-Release Set For April 6, 2012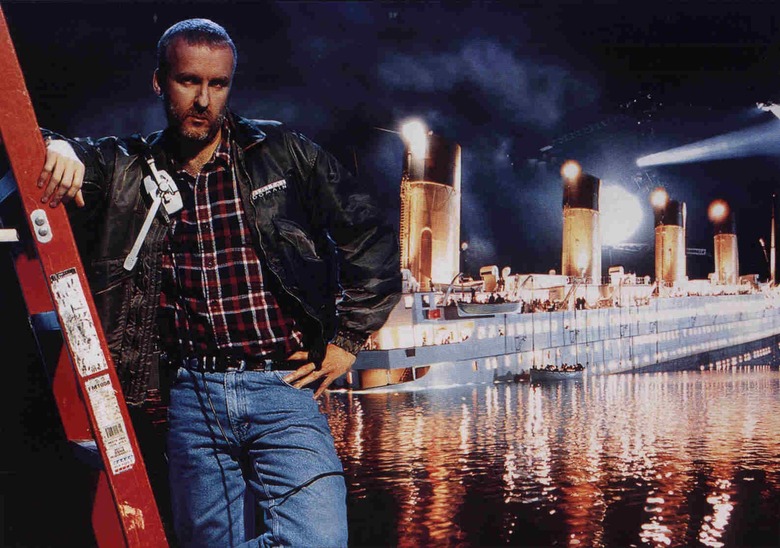 We've known for some time that a 3D re-release of James Cameron's Titanic would be hitting theaters, and we had a very good idea that it would be sometime in April 20120. Now the film has a firm release date: April 6, 2012. That date nearly marks the centennial anniversary of the Titanic's maiden voyage (she actually left Southampton for New York on April 10, 1912) and what better way to honor the passengers who died days later than by turning the sinking of the ship into a 3D moneymaking event? Expect to see some release date shuffling taking place for other films that were already set to hit on that weekend (The Cold Light of Day, American Reunion), and perhaps even for other 3D films that were holding nearby dates, like the Clash of the Titans sequel.
Read some of Paramount and Fox's very proud press release after the break. (It doesn't really have any specific new information, however.)
Many of you will probably remember that James Cameron is no fan of post-converted 3D, remember that he specifically said it was OK to post-convert classic films:
My personal philosophy is that post conversion should be used for one thing and one thing only – which is to take library titles that are favorites that are proven, and convert them into 3D – whether it's Jaws or ET or Indiana Jones, Close Encounters... or Titanic. Unless you have a time machine to go back and shoot it in 3D, you have no other choice. The best alternative is if you want to release a movie in 3D – make it in 3D.
He has also talked about the conversion process for Titanic, saying this last October:
We're in the early stages of that process. We've been moving very slowly to make sure that we do it right, and we've basically gone to every single vendor who does 3-D conversion, that's a credible vendor, and there were seven that we have received tests from. We've analyzed the tests, in a couple of cases we sent them back and told them to remake parts of it, because it was unacceptable, and now we're baking off the different vendors against each other and we're going to choose the top two or three vendors and we're going to split the show up between them. That's our game plan. So we maximize the quality. Everybody's busy now because there's a lot of conversion work.
Here's the press release:
Called "A spectacular demonstration of what modern technology can contribute to dramatic storytelling" by Variety upon its release in 1997, the long in the works 3D conversion is being overseen by Cameron and his Lightstorm producing partner Jon Landau who produced the hit movie.
Said Cameron, "There's a whole generation that's never seen 'TITANIC' as it was meant to be seen, on the big screen. And this will be 'TITANIC' as you've never seen it before, digitally re-mastered at 4K and painstakingly converted to 3D. With the emotional power intact and the images more powerful than ever, this will be an epic experience for fans and newcomers alike."
"This new presentation of Paramount's top-grossing film is particularly special because 2012 is the 100th anniversary of our studio. Paramount has had the pleasure of introducing audiences to some of the all-time classics of cinema during that century of moviemaking and we cannot think of a better way to mark the occasion than with this re-release of 'TITANIC'," said Brad Grey, Chairman and CEO of Paramount Pictures.
So will you see Titanic in 3D?