'Good Neighbors' Trailer: Watch Out For Jay Baruchel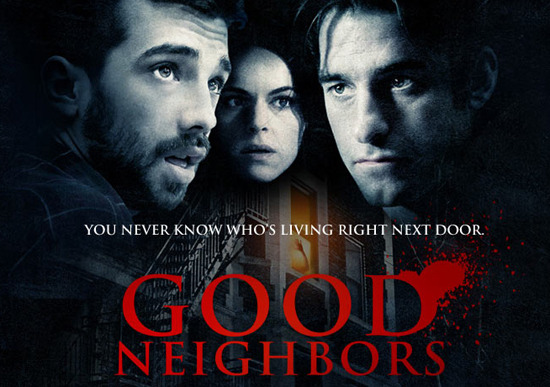 Jacob Tierney directed Jay Baruchel in the indie The Trotsky, and the two have teamed up once more for a film that changes up their previous equation a little bit. Good Neighbors is a thriller of the 'our neighbor may be a murderer' sort that also features Emily Hampshire, Scott Speedman and Xavier Dolan. The first trailer has launched, and it asks you to accept both a dangerous Jay Baruchel and a whole lot of Trailer Voice.
I can accept scary Jay Baruchel. Pretty easily, actually — the idea that he might actually be a freaky killer is a lot more scary than some of the stuff movies want us to be scared of. But the edit of this trailer is terrible and doesn't give him much power. And I can't be the only one who wanted to auto-complete the trailervoice statement "...when everyone is a suspect" with "except the guy in the wheelchair"? Oh, wait a second. Dammit, so Scott Speedman was the killer? Good one, trailer!
Apple has the HD trailer, and the film will be on iTunes on June 24.
Neighbors Spencer (Scott Speedman) and Louise (Emily Hampshire) have bonded over their fascination with a recent string of murders terrorizing their community. When a new tenant named Victor (Jay Baruchel) arrives in the building, all three quickly hit it off. But as they soon discover, each of them has their own dark secret. As the violence outside mounts, the city retreats indoors for safety. But the more time these three spend together in their apartment building, the clearer it becomes that what they once thought of as a safe haven is as dangerous as any outside terrors they could imagine. Smart dialogue, strong performances and jarring thrills give this film all the elements of a great mystery.