Open Casting Call For 'Hottie' Reveals 'American Reunion' Details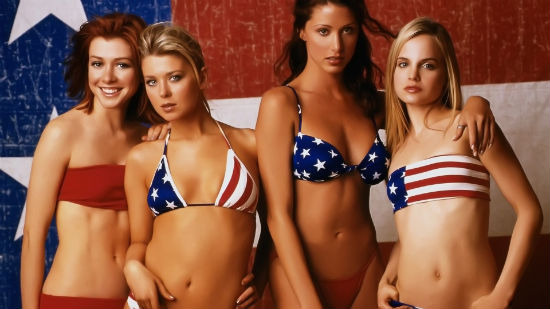 If you're an attractive, 18-20 year old female who is willing to take her top off on film, you probably don't read this site. Even so, it's not pointless to let you all know that Universal is having a open casting call to fill the lead role of "Kara" in the upcoming American Pie sequel, American Reunion. The April 6, 2012 release will get the whole band back together (Jason Biggs, Alyson Hannigan, Thomas Ian Nichols, Seann William Scott, Tara Reid, Mena Suvari, Chris Klein, Eddie Kaye Thomas, Eugene Levy, you get the drift) as they return home for their 10 year high school reunion. And when they get back, they'll encounter the aforementioned Kara.
However, the casting call does give a pretty good description of the role which spills some minor details about the movie. Read those and – in the unlikely case you are a girl described above – find out how you can audition for the film, after the jump.
Here's the description of the role from a Universal Pictures press release:
We are seeking an actress to play 18-20 for the co-starring role of "Kara" in the new Universal Pictures film AMERICAN REUNION. Kara is the sweet girl next door you used to babysit... now she's a senior in high school and a full blown hottie.  We are looking for someone funny, smart and beautiful to be a part of this next installment of the American Pie franchise. This film will be shot in Atlanta, GA and have a THEATRICAL release. Please note upper frontal nudity is required.
From that description we can discern that A) American Reunion will most definitely be R. And B) The guys will awkwardly interact with a very attractive high school girl.
Anyone who thinks they know someone who might fit that description can learn how to audition for the role by visiting www.americanreunioncasting.com. But, do so before May 24.
While I think American Wedding was an abomination of a movie, I'm still a pretty big fan of the first two films both for the comedy, characters and awkward situations. Having had my 10 year high school reunion a few years ago, I'm excited to see what kinds of hijinks the crew gets into this time. And, obviously, to see who they cast as Kara. Purely out of curiosity.