Casting Bits: Topher Grace In 'Gently Down The Stream;' 50 Cent In 'Odd Thomas;' Juno Temple In 'Magic, Magic'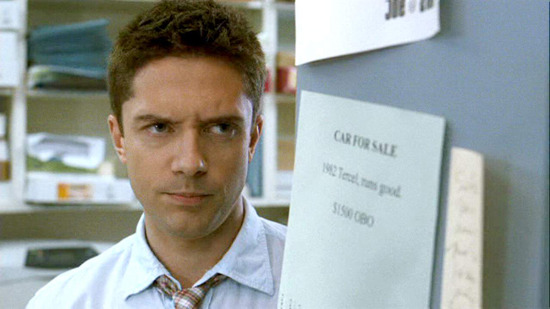 Topher Grace has joined the cast of Gently Down the Stream, which already has some prominent actors on board: Robert De Niro, Diane Keaton, Katherine Heigl and Amanda Seyfried. Justin Zackham wrote and will direct the story of a slightly awkward family romance. Specifically, De Niro and Keaton are a couple and father to Topher Grace's character. But he's also got an adopted brother, and that guy has a sister, and Topher Grace falls for her. Oops. [Deadline]
After the break, 50 Cent gets his best role ever, and the indie thriller Magic, Magic lands three young actresses.
I really should have put this one above the break. Curtis Jackson, aka 50 Cent, has been landing quite a few acting roles recently, but many of them are in films that might not have wide releases. (His last hire was to once again work alongside Bruce Willis in Fight Fire With Fire, a movie about a firefighter in the witness protection program.) Now he's been given what could be a much higher-profile role, in Stephen Sommers' adaptation of the Dean Koontz novel Odd Thomas. 50 Cent will be "Shamus Cocobolo, a blind deejay who helps the titular hero uncover a Satanic plot." Yes. That is actually his role. This movie just got 100% more interesting.
Anton Yelchin plays the "titular hero," a clairvoyant, and Addison Timlin, Willem Dafoe, Patton Oswalt, Gugu Mbatha-Raw and Nico Tortorella are in the cast, too. [Variety]
Finally, there is some news on Magic, Magic, the film in which Michael Cera will take a supporting role and, reportedly, work with Spanish-language dialogue. Juno Temple, Catalina Sandino Moreno, and Emily Browning have been added to the cast, too, which should pretty much fill out the top of the roster.
We don't know their specific roles, but Sebastian Silva is writing and directing, and the story follows a girl and her friends vacationing in a remote part of Chile, where the girl starts to lose her mind. Presumably the three new additions will be the girl and her friends, but there is no intel just yet on who is actually playing the lead role. [Variety]