Lars Von Trier Bonanza: 'Melancholia' Buzz; Nazi Controversy; 'The Five Obstructions' Goes To Magnolia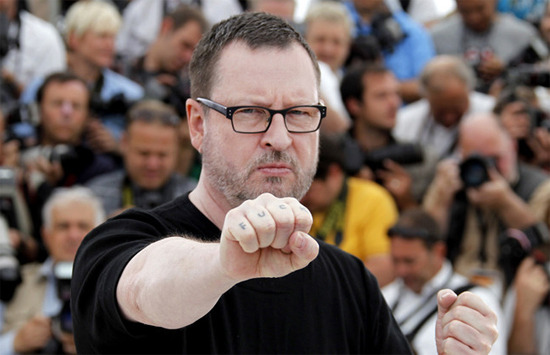 You can say this for Lars Von Trier: he doesn't believe in treading lightly. If today wasn't so busy I'd spend a few hours digging up the director's old comments from Cannes press conferences and correlating their level of pseudo-outrage to the quality of the film he's promoting. His latest movie, Melancholia, premiered at Cannes today and the reviews are (perhaps predictably) mixed, with some of the most telling comments coming in the form of negative reviews from normally sympathetic fans. (There are also some significant raves.)
'Sympathetic' is the byword for LVT today, as the press conference for Melancholia featured the director baiting the press with statements about feeling that he understands Hitler and being a Nazi. Depending on how you look at it, press-baiting may not even have been his goal — it is more like the Nazi comments grew out of an attempt at a joke that, like a poor SNL routine, went on too long and wound down into an awkward sort of 'oops' conclusion. (A conclusion that proved perhaps appropriately apocalyptic, given the context of promoting a film about the end of the world.) The discourse about him today is dominated this current provocation, but we've also got early reviews of Melancholia and a few more upcoming career details.
First up, some Melancholia buzz. Indiewire calls the film "a dark apocalyptic masterpiece," and "a mesmerizing elaboration on his favorite motifs, masterfully elevating them to an epic scale." Salon's Andrew O'Heir called it a " gorgeous, profoundly emotional and often very funny tragicomedy"
THR, meanwhile, said "Lars von Trier manages to turn the end of the world into a bit of a bore," with "ample opportunity to wallow in some rapturous images, glorious music and a foul mood." Todd from Twitch said via Twitter, "pretty horrible. I love Von Trier but this is probably the worst thing he's ever done. Non stop navel gazing."
That's a quick sampling, and there is quite a bit more in each of those veins if you're looking for more reviews. But sadly the actual film was the least of Lars Von Trier's talking points today. Hopefully in weeks to come it will move to the forefront of the conversation.
So let's get to the big comments that had everyone talking. I'm going to present an entire block of text below, rather than cutting the most attention-getting quotes out of context. Taken together, I think his joking intent was very clear. Whether his joke was funny, or even vaguely close to tasteful, is something I'll let you discuss below. You can also watch the press conference to get an idea for yourself (beware the many context-free edits already floating around) and also to check out the rather taken-aback reaction from Kirsten Dunst.
The question concerned the director's German heritage, and his answer was,
For a long time I thought I was a Jew and I was happy to be a Jew, then I met Susanne Bier and I wasn't so happy. No, that was a joke, sorry... But it turned out I was not a Jew, and if I had been a Jew I'd have been a second-rate Jew, because there's kind of a... hierarchy in the Jewish population. But no, I really wanted to be a Jew but then I found out I was really a Nazi. Because my family was German, which also gave me some pleasure. What can I say? I understand Hitler... I think he did some wrong things, yes absolutely. But I can see him sitting in his bunker at the end... [Looking at an audibly reacting Kirsten Dunst] What? There will come a point at the end of this... I will...No, I'm just saying I think I understand the man. He's not what you would call a "good guy" but I understand much about him. I sympathize with him a little bit. I don't mean I'm in favor of World War II and I'm not against Jews, not even Susanne Bier. That was also a joke.  In fact I'm very much in favor of them. All Jews. Well, Israel is a pain in the ass but... Now how can I get out of this sentence? [laughter] No, I just want to say about the art- I'm very much for... Speer, is it? Albert Speer I liked. He was also maybe one of god's best children, but he had some talent. It was possible for him to use during... [giving up]  Ok. I'm a Nazi.
It is very easy to take several points of that out of context, but looking at the whole thing, I'd love to see the argument that it was anything more than, at the very worst, a tasteless joke and rather pointless conversational digression. Taking it to mean, literally, "I am a Nazi," is to ignore everything that was said before that one statement.
Not long after the press conference, at the prodding of the Cannes staff, his publicist, the ADL or all three, LVT retracted and apologized for the comments, saying in a release,
If I have hurt someone this morning by the words I said at the press conference, I sincerely apologize. I am not antisemitic or racially prejudiced in any way, nor am I a nazi.
If it weren't for the Nazi comments, the most newsworthy quotes out of the press conference would have been his seeming jokes about his next film. The director said,
My next film, and Kirsten [Dunst] demanded it, will be porn. That's how women are. Really hard core. That's what I'm writing now.
We've heard that he will make a film called The Nymphomaniac, about "a woman's erotic birth," and so the notion of it being fully pornographic is actually almost plausible. (Esepcially given that LVT has never shied away from full-on depictions of sex — see Antichrist for the most recent example.) Jeff Welles evidently talked to Stellan Skarsgård about this possibility, reporting via Twitter that the actor said LVT "was being sincere when he said his next film would be a porno." Quoth Mary Elizabeth Winstead: Gulp.
(He also said that Kirsten Dunst would probably not be involved.)
Finally, there is word that Magnolia and Madmen have pre-bought rights to distribute the Martin Scorsese collaboration The Five Obstructions in North America and New Zealand. The press release from Magnolia doesn't offer any real new info beyond what we've already reported, but summarizes the project like so:
THE FIVE OBSTRUCTIONS: SCORSESE VS TRIER follows in the footsteps of The Five Obstructions, Trier's landmark 2003 documentary collaboration with Jørgen Leth, wherein von Trier challenged Leth to remake his 1967 short film The Perfect Human five times, with an increasingly difficult set of strict rules, or obstructions, that he had to follow. Slated to be finished in 2013, THE FIVE OBSTRUCTIONS: SCORSESE VS TRIER is a co-production between Scorsese's Sikelia Productions and Trier and Peter Aalbaek Jensen's Zentropa Real.
Here's a good clip from the Cannes press conference so you can see how Von Trier was floundering rather than proclaiming: