Superhero Bits: 'The Dark Knight Rises,' 'The Avengers,' 'X-Men First Class,' 'Green Lantern 2,' Ant Man
[No photo]
It's happening. Christopher Nolan is now filming The Dark Knight Rises and some actual urban set photos have emerged. Want to see what they are shooting? Also, what is the film going to cost and why is the guaranteed blockbuster causing stress at Warner Bros.? Plus, who won't be appearing in X-Men First Class, who will be appearing in The Avengers, director Martin Campbell comments on Green Lantern 2 and more. Only in today's Superhero Bits. Which starts right now.
Let's begin with The Dark Knight Rises. The Los Angeles Times recently ran an article stating that film is causing a problem between Legendary Pictures and Warner Bros., who were 50/50 partners on The Dark Knight. Their deal ends in 2013 and with The Dark Knight Rises expected to cost $250 million, they're looking to renegotiate the deal. Whether or not they figure it out is of no real importance to the audience, but what is interesting is the current estimated cost of the movie: $250 million. That's a substantial increase from the $185 million The Dark Knight cost but that seemed to work out for everyone, didn't it? However, with Warner Bros. losing Harry Potter this year, they're hoping to get a bigger piece of the pie. You can read more about the details over at the LA Times.
Still, no matter what, the film is coming and it's currently shooting in London. Rumors from people who swung by the set are that it's the interior of a police station and that Gary Oldman and Joseph Gordon Levitt have both been seen around. Here are some photos of the location which, according to Nolan Fans, was also used in Batman Begins and The Dark Knight. Thanks to Nolan Fans and Hollywood Chicago for these pics. Head to each site for more.
[No photo]
In addition to The Dark Knight Rises, next summer has two other huge superhero movies. The Amazing Spider-Man (no updates as of right now, but we had a bunch last week) and The Avengers. Paul Bettany – currently appearing in Priest – was the voice of Tony Stark's computer Jarvis in both Iron Man and Iron Man 2 and told Collider that he's not yet been approached to lend his voice to Stark's next big screen appearance. Who has been asked to appear in the film, though, is Derek Luke, who plays Gabe Jones in Captain America: The First Avenger. Variety mentions that Luke will reprise that role in The Avengers and, because Marvel hasn't really pushed his involvement in Captain America: The First Avenger, ComicBookMovie does some speculating about what exactly that could mean.
Also, while there was some minor speculation about Ant Man appearing in The Avengers, co-writer of the script Joe Cornish has no idea. Thanks to Empire for this quote:
When it comes to Ant Man, I am only a humble writer, so I can't speak with any authority on that matter. But I can say that Edgar and I are very excited about our script. I've been working on Attack the Block non-stop for the last year and a half, so I'm not up to date on the latest Avengers developments, but I am pretty confident it will be amazing with or without Ant Man.
Another major star not appearing in a major comic book movie is Stan Lee and X-Men First Class. According to Lee's Twitter, he has not been asked to do his trademark cameo in the film. Odd.
Not as odd is that Green Lantern director Martin Campbell told Total Film (with a heads up to Daily Blam) that he would not come back for a sequel to the soon to open DC film. Here's the excerpt:
Inevitably, chat turns to the possibility of follow-ups. Campbell admits it will be nice to have all the backstory and complicated rules of the character already taken care of. "This film has become the instruction manual if they do any further ones. It's what we call pipe laying," he says. Not that he has plans to return for a sequel – like Bond, he loves 'em and leaves 'em.
Back to X-Men, Architecture Digest has some really pretty photos from X-Men First Class including this one of Sebastian Shaw (Kevin Bacon) and Emma Frost (January Jones). Click on it to see a bunch of other photos of the film's awesome sets. Thanks to Movieline for the heads up.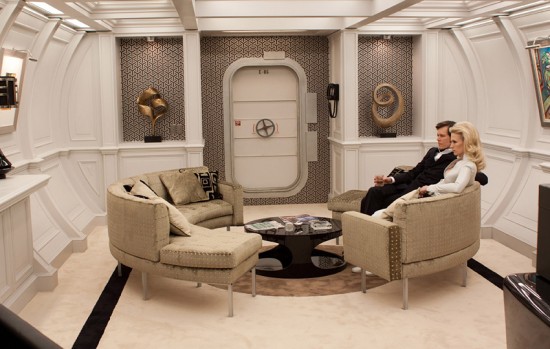 Finally, we leave you with this new commercial for the all-new Spider-Man: Turn Off The Dark, thanks to Bleeding Cool. I've seen the show and everything in this commercial is from the original show. Um, yeah.