'Monsters 2' Is Moving Ahead, But Gareth Edwards Won't Direct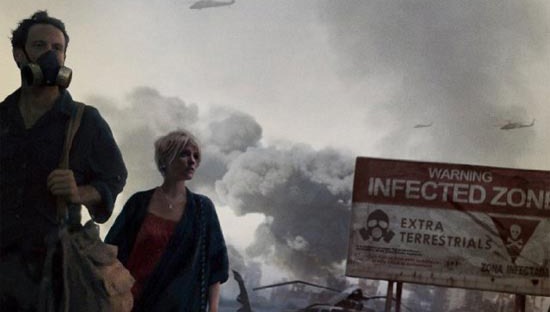 In the wake of Gareth Edwards' film Monsters becoming a tidy little art-house sleeper last year, a sequel isn't exactly what we figured would happen, but I don't think anyone would say the development of one is surprising. UK distributor Vertigo Films is now developing Monsters 2 (thought that could well not be the finale title) with pre-sales and financing going on at Cannes. There is little more than some theoretical ideas and a handful of good intentions to report, but we do know that Gareth Edwards is giving up the director's chair to a duo: Brent Bonacorso and Jesse Atlas.
Screen Daily, in one of the site's many Cannes scoops, says that Gareth Edwards and original star Scoot McNairy will exec produce the film, which will again take place in the 'infected zone' that was the location for most of the original.
While there is no cast to announce at this point, we can expect more monsters, in part because the film will be produced for a much higher budget than the original. (Around $5m, rather than the figure well under $1m that represents the budget of the original.) All we've got with respect to plot is that this sequel will follow a teacher into the infected zone on a quest to find his missing brother.
I presume that the beauty of the Monsters setup, from the perspective of a company that wants to make more films, is that the basic concept — a zone filled with huge monsters — can be used as the backdrop for a great many stories. And, true, the creatures weren't really a huge part of the original. But 'more creatures' isn't the answer to making a successful sequel, either, only an exploitative one. With Gareth Edwards watching over this project, hopefully it will turn out better than my initial fears suggest it might. But then, he'll likely be too busy overseeing the new Godzilla film to be too hands-on.