Rival 'Snow White' Pictures Go Into Fight Club Mode As Universal Moves 'Huntsman' Release Date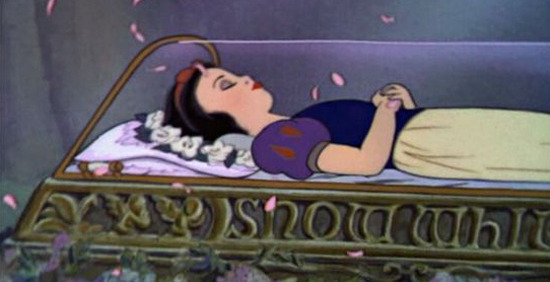 This is the sort of story that you'll probably find interesting only if you consider the backstage maneuvering of producers and studios to be fascinating stuff. We've been watching with some distant interest as Universal and Relativity Media both prep Snow White films with release dates that were originally six months apart. ("Does anyone actually want either of these movies?" is a question that doesn't seem to be factoring in so far.) Universal had Snow White and the Huntsman set for a December 2012 release, while Relativity has been planning The Brothers Grimm: Snow White for release on June 29 2012.
But now Universal, which just locked the last topline cast member for Huntsman when Chris Hemsworth signed on last week, has now moved Snow White and the Huntsman up six months to June 1, 2012 — just under a month before Relativity's movie.
We've seen a lot of similar films go into development at the same time in the past, but usually someone blinks pretty quickly. It is rare to see things get so far along that two companies both stubbornly decide to forge ahead with films that track the same subject matter in similar ways. There's always the example of the paired Truman Capote films, Capote and Infamous, where Capote beat Infamous to festivals and theaters and got all the public interest and accolades.
Universal and Relativity also have a long history of doing business together, so this battle is even more unusual than it would be otherwise.
This new release date gives Universal just a year to assemble and market Huntsman, and to do so with the director, Rupert Sanders, making his feature debut on the picture. That's hardly impossible, but the timeline could be an added level of stress on top of what was already looking like a pressure-cooker process.
Here's Universal's press release about the date change, which also means that Judd Apatow's new film moves into December, via Deadline:
UNIVERSAL CITY, CA, May 15, 2011 – Universal Pictures announced today that its epic action-adventure Snow White and the Huntsman will make a bold move into the early summer movie season with its new release date of June 1, 2012. The much anticipated film stars Twilight's Kristen Stewart, Academy Award® winner Charlize Theron, Thor's Chris Hemsworth and Pirates of the Caribbean: On Stranger Tides' Sam Claflin.
This breathtaking new vision of the legendary tale from Joe Roth, the producer of Alice in Wonderland, and acclaimed commercial director and state-of-the-art visualist Rupert Sanders (Halo 3 campaign) had originally been set for release in late December of next year. With adjustments to the production timeline, however, the film will now be ready for a summer 2012 release date.
In Snow White and the Huntsman, Stewart plays the only person in the land fairer than the evil queen (Theron) who is out to destroy her. But what the wicked ruler never imagined is that the one girl threatening her reign has been training in the art of war with a huntsman (Hemsworth) who was dispatched to kill her. Claflin plays the prince long enchanted by Snow White's beauty and power.
"As Rupert and Joe were finalizing casting and preproduction of Snow White and the Huntsman, we realized that the ambitious and fully-formed world they had promised was blowing away all expectations," said Universal Chairman Adam Fogelson and Co-Chairman Donna Langley in a joint statement. "We're thrilled that Universal will be bringing this singular version of a timeless story almost seven months earlier than anticipated."