First Looks: Colin Firth And Cameron Diaz In 'Gambit;' Willem Dafoe In '4:44 Last Day On Earth'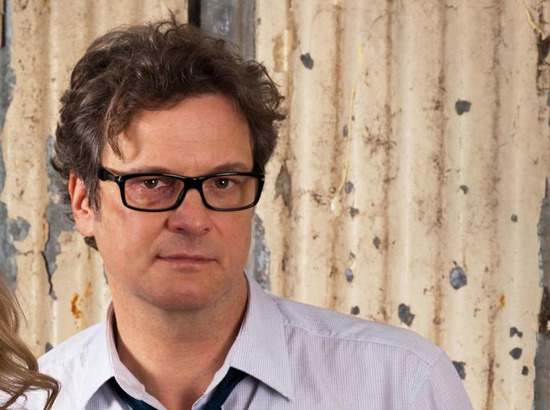 Some few years ago the Coen Brothers scripted a remake of the '60s romantic caper comedy Gambit (originally starring Michael Caine and Shirley MacLaine) and the remake is finally shooting now under the direction of Michael Hoffman (The Last Station). Colin Firth and Cameron Diaz star in the key roles, and Stanley Tucci and Cloris Leachman have joined Alan Rickman and Tom Courtenay in the supporting cast. The first image of the leads is out now, and you can see a larger version after the break.
Also lurking below the jump is the first image from Abel Ferrara's new film, 4:44 Last Day on Earth, which stars Willem Dafoe. Neither of these images are quite earth-shaking, but they're minor teases of what is to come.
ComingSoon got the Gambit image, and provides this plot synopsis:
Colin Firth plays British art curator Harry Deane, who devises a finely-crafted scheme to con England's richest man and avid art collector, Lionel Shabandar, (Rickman) into purchasing a fake Monet painting. In order to bait his buyer, he recruits a Texas rodeo queen (Diaz) to cross the pond and pose as a woman whose grandfather liberated the painting at the end of WWII.
CBS Films has picked up Gambit for US distribution, but there is no date set at this point.
And then The Playlist has the first look at 4:44 Last Day on Earth, which was recently revealed in a brief Variety mention. All we've known of the film is that Abel Ferrara directs and Willem Dafoe stars. Now we've got this info, and the fact that Shanyn Leigh, Natasha Lyonne and Paul Hipp.
In a large apartment high above the city lives our couple. They're in love. She's a painter, he's a successful actor. Just a normal afternoon – except that this isn't a normal afternoon, for them or anyone else. Because tomorrow, at 4:44 am, give or take a few seconds, the world will come to an end far more rapidly than even the worst doomsayer could have imagined. The final meltdown will come, not without warnings, but with no means of escape. There will be no survivors. As always, there are those who, as their final cigarette is being lit and the blindfold tightened, will still hope against hope for some kind of reprieve. For a miracle. Not our two lovers. They – like the majority of the Earth's population – have accepted their fate; the world is going to end.
Abel Ferrara was once a force to be reckoned with, but in the last few years he's become a more quiet director, shifting his focus to the documentary world. This image doesn't tell us much at all — it could honestly be from any of a number of other Abel Ferrara films — but the plot details make me hope that this might be a return to form.