Robert De Niro May Play Bernie Madoff For HBO Film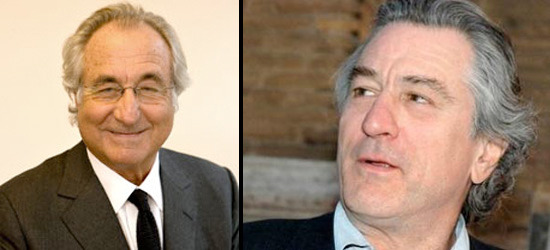 HBO seems to be in love with real-life stories this year. Among other projects, the channel has Too Big To Fail, a film about the 2008 financial crisis, hitting soon, and is now shooting Game Change, which features Julianne Moore as Sarah Palin in a story about the 2008 presidential election. And HBO has optioned the book The Wizard of Lies: Bernie Madoff and the Death of Trust, which now has Robert De Niro as a likely lead for the film.
Deadline and THR both have info on the project, but at this point there isn't much: Robert De Niro and producing partner Jane Rosenthal are producing the film, and the expectation is that De Niro will play Bernie Madoff, who for decades oversaw investment schemes that bilked billions out of clients. There's certainly enough resemblance between the two men to make the casting seem like a no-brainer. And if Robert De Niro can escape the ennui that has left some of his recent performances feeling like paint by numbers exercises, he would actually be quite an interesting choice to bring Bernie Madoff to life. I'll be interested to see who plays his sons, too, as they were responsible for bringing his financial malfeasance to light.
And while some people might be tired of the parade of 'ripped from the headlines' films that have emerged since the 2008 financial crisis, I love it. There is nothing quite as unnerving as the forced realization that our financial ship is steered by captains who are essentially invisible to the public. Guys like Bernie Madoff and the Koch Brothers should be public figures. (Totally different types of people, but they're part of the same game.) I don't give a shit what some idiot pop-culture figure has been up to on a day to day basis; I want to know the actions of people whose minor financial transactions can determine economic and political policy.
Back to the subject at hand — Amazon carries this description of the book that will be used as a primary source for the film:
Who is Bernie Madoff, and how did he pull off the biggest Ponzi scheme in history? These questions have fascinated people ever since the news broke about the respected New York financier who swindled his friends, relatives, and other investors out of $65 billion through a fraud that lasted for decades. Many have speculated about what might have happened or what must have happened, but no reporter has been able to get the full story — until now.
In The Wizard of Lies, Diana B. Henriques of The New York Times — who has led the paper's coverage of the Madoff scandal since the day the story broke — has written the definitive book on the man and his scheme, drawing on unprecedented access and more than one hundred interviews with people at all levels and on all sides of the crime, including Madoff's first interviews for publication since his arrest. Henriques also provides vivid details from the various lawsuits, government investigations, and court filings that will explode the myths that have come to surround the story.
A true-life financial thriller, The Wizard of Lies contrasts Madoff's remarkable rise on Wall Street, where he became one of the country's most trusted and respected traders, with dramatic scenes from his accelerating slide toward self-destruction. It is also the most complete account of the heartbreaking personal disasters and landmark legal battles triggered by Madoff's downfall — the suicides, business failures, fractured families, shuttered charities — and the clear lessons this timeless scandal offers to Washington, Wall Street, and Main Street.