'The Dark Tower' Stays At Universal With Smaller Budget, Schedule Pushed Back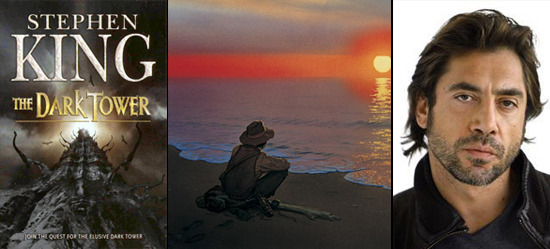 Universal won't pass on the massive Ron Howard and Akiva Goldsman adaptation of Stephen King's series The Dark Tower, but the studio is making some changes before it writes a check. We recently heard that the project, which is mean to come to life as three feature films and a couple of TV arcs, might be shelved at Universal and offered up to other studio homes. Universal doesn't want to let it go — understandable, as there is nothing execs like less than seeing projects they pass over do well somewhere else — but is asking for a new look at the budget, and has pushed the start date for the first film back from this fall to some time next year. Will that mean The Dark Tower loses Javier Bardem as the lead?
THR reports only that "Ron Howard, Brian Grazer and Akiva Goldsman have regrouped to try to bring the budget down." That means a script rewrite, at the very least. Beyond that, the delay definitely calls Javier Bardem's participation into question, because the film represented a significant commitment to begin with. If he now has to be at the whim of delays in the writing and budgeting process, that might lead to him taking other projects and ultimately being unavailable when the real Dark Tower start date rolls around.
This goes along with what Imagine president Michael Rosenberg said last week: "Dark Tower is not in turnaround... there are issues and on-going budget discussions with almost every film in development."
The scope of this project is massive — three films and two interlinked TV series is something we've never seen anyone try — and so seeing it scaled back isn't a surprise. While I'm not wild about the Howard/Goldsman creative team, I was hoping to see this happen just for the sake of the very spectacle involved. We'll follow along to see what develops, but don't be surprised if the rewriting process calls for further changes.