First Look: Bruce Willis In Rian Johnson's New 'Looper'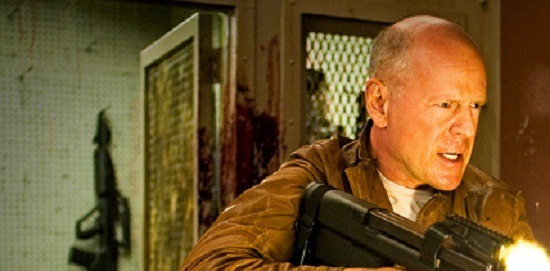 We've been pretty vocal about our interest in Rian Johnson, whose debut film Brick is (I think) a tremendously entertaining modern noir, and who crafted an engaging and clever caper film in The Brothers Bloom.
So Looper, his third film and one which involves time travel (and the talents of Primer director Shane Carruth!) is something we're quite keen to see. Here's your first look at any real stills from the film. It shows Bruce Willis, who plays the older version of a young hitman played by Joseph Gordon-Levitt. Confused? Don't be — I'll explain after the break. (And so possible spoilers are ahead, but they're not likely any different than you'll get in the eventual trailer.)
Empire has this shot (see a bigger version there), which, obviously, shows Bruce Willis getting into action with a machine gun. It doesn't tell us nearly as much as I'd like to know about how the film looks or feels, but you can start to get a vague sense of the aesthetic in Bruce's grizzled look and the slightly queasy lighting.
The plot  features JGL as a hitman whose victims are sent back in time from 30 years in the future. He knocks them off and, meanwhile, back in the future, there's no trace of the crime. But then his future self, played by Willis, shows up, and things get difficult.
This shot seems to have some sort of police or military weapon lockup in the backdrop, and the ropes on Bruce Willis' wrist suggest that he hasn't been in his past for very long, as the victims to be (or 'the victims to...were'? this is going to get complicated) are bound when they're sent back.
The film has done some shooting in Lousiana and production contacts there have raved about the script (I haven't read it and don't want to — I just want to see the film) and the movie has also done some shooting in China, which was the source of some of the production funding.
Emily Blunt, Piper Perabo, Garrett Dillahunt, Paul Dano , and Xu Qing are also in the cast. We don't know when we'll see a trailer, but rest assured we'll make you aware of it when one drops.