Colin Firth And Emily Blunt Will Steal Identities, Comically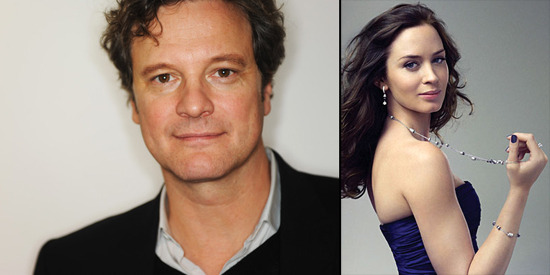 Briefly: I'm very happy to see that winning an Oscar hasn't turned Colin Firth into an over-cautious deliberator when it comes to picking new roles. He's shooting Gambit now, though granted, that hardly seems like a crapshoot, given that well-regarded director Michael Hoffman is working from a Coen Brothers screenplay.
And now he's part of the parade of new projects looking for funding and/or distribution deals at Cannes, as he and Emily Blunt are set to be part of an as-yet untitled comedy in which both play characters who try to "reinvent themselves using other people's identities."
THR reports that commercial director Dante Ariola will make his feature debut with the film, which was written by Becky Johnston (The Prince of Tides, Seven Years in Tibet). The script follows "a  man who fakes his own death in an attempt to reinvent himself and meets a woman who is also in the process of trying to escape her old life. They both break into empty houses to seal the identities of the absent owners."
Sounds like fun, actually, and a nice link to the romantic art heist that powers Gambit.