Matthew McConaughy And Hilary Swank Join 'The Dallas Buyer's Club'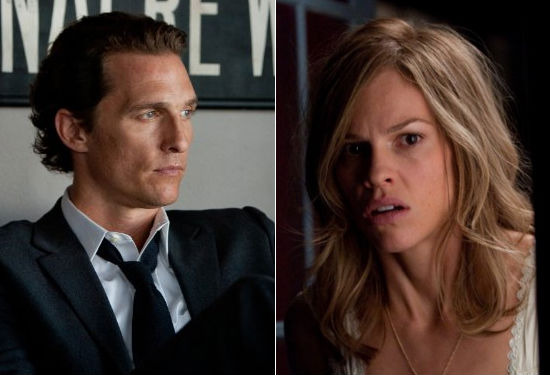 One's an multiple Oscar winner, the other a romantic comedy mainstay, but together they're going to tell the true story of how one man single-handedly saved innumerable people from death. Hilary Swank and Matthew McConaughy have just signed on to star in The Dallas Buyer's Club, written by Craig Borten and Melisa Wallack and directed by Jean-Marc Vallee (The Young Victoria). A project that's been long in the making, it's about Texas electrician Ron Woodroof who, in 1987, was diagnosed with AIDS and given six months to live. Instead, he lived six years, illegally smuggling medicine into the United States.
The news of the deal broke at the currently in progress Cannes Film Festival. It was reported on by all the usual suspects -  Variety, Deadline and The Hollywood Reporter. The title refers to a group founded by Woodroff, composed of several thousand members, who distribute AIDS medication.
News of this project stretches back to 2007 when Brad Pitt was attached to produce and star with Marc Forster attached to direct. Obviously, that didn't happen. But the fact that he was interested, and that the project is still being developed, certainly says something about it.
For years McConaughy has kind of kept himself in a very comfortable zone, portraying many similar characters that would woo Kate Hudson and stand back to back on a movie poster. He got away from that a little bit with the surprise hit The Lincoln Lawyer and it seems, with this role, he'll stay in that dramatic genre.
However, the Woodroof character has charisma. How do I know? Read this opening excerpt from a Dallas Observer article on him:
The thin man in gray approached customs with contraband — 36 vials of a life-renewing drug packed in dry ice in a black leather briefcase — bound for Dallas. It should have been easy to slip out of Tokyo, but there were problems. A conspicuous frosty patch had condensed on the surface of the briefcase, and smoke seeped through its sides as dry ice evaporated. Ron Woodroof, an experienced smuggler, moved fast. He slipped the vials into his pocket and popped open the briefcase for Japanese officials, understandably suspicious of smoking luggage.
"Why are you carrying dry ice around the world?" one asked. "Would you believe," Woodroof replied, "that it's a fetish of mine?"
Victorious, he boarded his plane. Within two weeks, in April, he had begun shipping oral alpha interferon to hundreds of U.S. men and women dying of AIDS.
Head over to the Observer website to read the rest of the story and, there by, learn more about the film.
Do you think McConaughy will be able to play this modern Robin Hood role?