First Clip Of George Clooney In Alexander Payne's 'The Descendants'
If you woke up this morning hoping to see George Clooney run around Hawaii like an idiot, well, you're in luck. The first clip of Clooney in Alexander Payne's long overdue follow-up to the 2004 Oscar winner Sideways, The Descendants, has just come online, teasing a website about the film called Who Is He? Based on the novel by Kaui Hart Hemmings and scheduled for release December 16, The Descendants is about an attorney forced to reexamine his life and make some very difficult decisions when his wife gets into a terrible accident. Besides Clooney, the film stars Judy Greer, Matthew Lilliard, Beau Bridges, Robert Forster, Shailene Woodley and more. Watch the clip after the jump.
Thanks to The Film Stage for the heads up. The clip is not embeddable so, instead, click on this image and it'll bring you right to it.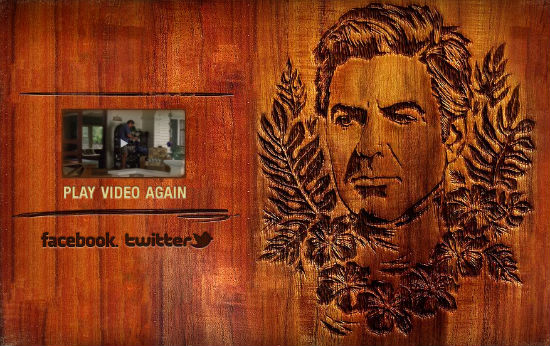 Here's the official plot description of the film without spoilers:
From Alexander Payne, the creator of the Oscar-winning SIDEWAYS, set in Hawaii, THE DESCENDANTS is a sometimes humorous, sometimes tragic journey for Matt King (George Clooney) an indifferent husband and father of two girls, who is forced to re-examine his past and embrace his future when his wife suffers a boating accident off of Waikiki. The event leads to a rapprochement with his young daughters while Matt wrestles with a decision to sell the family's land handed down from Hawaiian royalty and missionaries.
If you're curious who the "He" in "Who is He?" is, well, we've spoiled that little gem in a previous post. Here's the highlight which should be considered a spoiler:
Matt is, a "besieged and wryly introspective attorney" who "wrestles with the decision of whether to keep his swath of valuable inherited land or sell it to a real estate developer." But more important is Matt's wife, who is in an irreversible coma, and the fact that Matt has just discovered that she was having an affair with real-estate broker Brian, which leads "him to travel with his two daughters—precocious 10-year-old Scottie and fresh from rehab 17-year-old Alex—from Oahu to Kauai to confront Brian."
From its release date, cast and talented filmmaker, it seems Fox Searchlight is lining this one up for the 2012 Oscars. What do you think?