Casting Bits: Ryan Reynolds In 'A Boy Named Sue;' Garret Dillahunt In 'Looper;' Walton Goggins In 'Officer Down'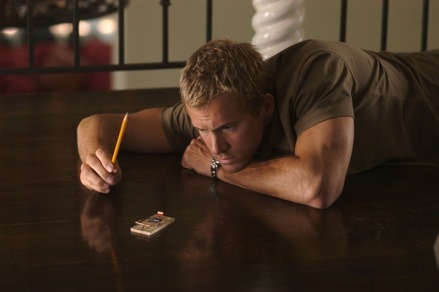 I suspect this film will never get made with this cast, but you might eventually see A Boy Named Sue on screens in some form. In a piece about Ryan Reynolds forming a TV production company with Allan Loeb, Deadline reports on the film, written by Loeb, which has Ryan Reynolds attached to star as " a guy who disguises himself as a woman to win his ex-girlfriend back." So it is kind of Tootsie by way of Johnny Cash, with a little extra romantic comedy? Maybe? Despite the fact that Ryan Reynolds and Allan Loeb are developing this as part of a whole slate of stuff they've got cooking, I bet this gets made with someone else in the lead.
After the break, two great character actors, Garret Dillahunt and Walton Goggins, get new gigs.
You should revere the 'Random Roles' column at the Onion AV Club if you don't already, or at least be sure to read each installment. The latest spotlights Garret Dillahunt, and as is often the case, the column turns into not only a wonderful career overview for the actor, but a window into his general thinking about work and acting. You'll get statements like "I'm happy to talk about Winter's Bone all you want, but its success certainly has nothing to do with me. That really rested squarely on Jennifer Lawrence's pretty young shoulders. She carried it with aplomb beyond her years, so I'm really just riding its coattails."
He talks at length about the weird process that saw him take a small role in The Assassination of Jesse James By the Coward Robert Ford, and the process of getting to play Wendell in No Country For Old Men. ("I auditioned for [lead role Llewelyn] Moss about five times, every time a star fell out. That happens to me a lot when stars fall out—they go to me, or I have a shot.") One small revelation in the piece is that the friendship that he formed with Andrew Dominik and Brad Pitt has led to him shooting a cameo for Cogan's Trade, which will hopefully make the final cut. But he also reveals that he's got a role in Rian Johnson's Looper, and that sounds like a gig that offers a bit more screen time. Anything that puts him on the big screen is welcome as far as I'm concerned, but since those two films were ones that already seemed particularly promising, it's a win/win.
Finally, Walton Goggins, someone I'm happy to see in any context, even when it is throwaway crap like Predators, is now in Officer Down alongside David Boreanaz, Stephen Dorff, Dominic Purcell, Stephen Lang, James Woods and AnnaLynne McCord. We reported on the film a couple days ago, but to recap the John Chase script, which seems to blend a slightly metaphysical angle with what might be a thriller of sorts, we've got this:
When a doctor and security guard dream at night, their dreams consist of what the other person did during the day. They meet when the security guard murders his wife, is then hit by a car and brought into the doctor's emergency room. Boreanaz will play a humorless and ambitious rival detective to another cop played by Dorff.
Walton Goggins will be "the prime suspect in the sexual assault of a young woman, a case being investigated by a gruff detective (Dorff)." [Deadline]