Superhero Bits: Early 'Wonder Woman' Pilot Review, Plus 'The Amazing Spider-Man' And Kevin Feige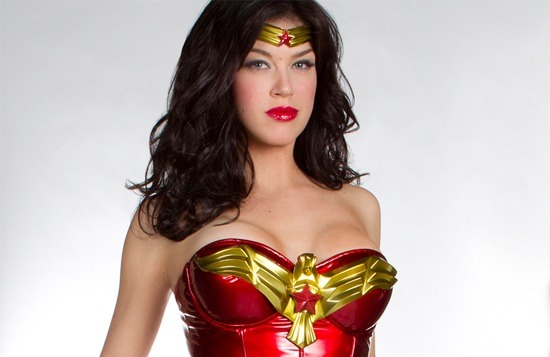 Hey, you know that Wonder Woman series we've all been worried about? One lucky comic book fan actually got to watch an early cut of the pilot, and from the sounds of it, most of our fears are totally justified. After the jump, highlights from this first, very early review, plus quotes about The Amazing Spider-Man from Martin Sheen (a.k.a. Peter Parker's dear Uncle Ben) and future plans from Marvel Studios president Kevin Feige.
The violence in the pilot is "over-the-top": "Wonder Woman would kill people without even blinking an eye."
Fight scenes are "adequate," and involve a lot of lassoing and wire work.
Adrianne Palicki (Wonder Woman) and Tracie Thoms (Wonder Woman's assistant) acquit themselves well, or about as well as they could given the "not very good" script.
Justin Bruening (Steve Trevor), on the other hand, isn't quite up to par: "It's like watching a cardboard standout."
There are two different Wonder Woman costumes — the "velvety" "pants-suit" (I assume he means this one) and a more classic bikini bottom suit that we haven't seen before. According to Carelli, the latter is "a million times better."
"Diana Prince," the ordinary-girl alter ego of Wonder Woman, sits around her apartment watching The Notebook, eating popcorn, and cuddling with her cat.
Perhaps most damning of all, Carelli reports that the pilot "doesn't even feel like Wonder Woman... it feels like a David E. Kelley show."
Overall, Carelli says the pilot isn't so much "awful" as "just really average," which if you ask me is almost worse. Granted, Carelli just saw a test screening, so the studio is obviously still making changes — but it seems like we've been hearing nothing but bad things about the new series so far, so I don't have much hope of actually seeing something good whenever Wonder Woman finally makes it to the small screen. Make sure to head over to Geekshow Entertainment for the full review, including (starting at about 14:00) heavy spoilers.
Yesterday, we gave you the first look at Martin Sheen in his Uncle Ben costume from The Amazing Spider-Man set. Today, we have some quotes from Sheen that offer a bit more information on his character's role in the film. From a roundtable interview posted on Hey U Guys:
I'm not in any of the scenes where he's Spider-man. He's still a little boy. He's a teenager when it starts. I'm a surrogate father really, I'm his uncle. And so all of our scenes are just like you and I talking now. I'm dealing with this adolescent who is having problems with changes, with hormones changing and his getting out of hand. I have to give him the marching orders and so forth. It's all very normal. And the guy playing him is wonderful...
He [Andrew Garfield] called me up and said he'd like to meet me and I said who are you and he said I'm playing your nephew. I said, you're Spider-man! And we met for lunch and he was delightful. He just wanted to see who I was and whether I was open to changes, whether he could improvise with me. I was delighted and we had a wonderful time.
I've never seen him in the uniform, I've never seen any of the stunts, any of the special effects, the green stuff. All my stuff is like normal acting and I don't do anything with him otherwise. I'm dead in reel one y'know. I don't do the end until I'm in New York. In April and May, that when I finish up with him. That's where I get shot. There's no special effects for me, that's for the other characters.
There's not a whole lot about his statements that are surprising, but it does sound like we'll be seeing the classic Spider-Man origin story all over again — and that any twists won't have to do with the timing of Ben's death. This also seems to indicate that Spider-Man most likely will not be facing off against a zombie version of Uncle Ben played by Sheen, just in case you were wondering if that was a possibility. [via Comic Book Movie]
In a new interview with Box Office Magazine, Marvel Studios president Kevin Feige discussed Thor, as well as the general development process for these Marvel blockbusters. The conversation mostly focused on how these movies get off the ground, but Feige did confirm a few projects that he has in the works:
Ant-Man certainly is [something we've worked on], and it's something we hope to do soon with Edgar [Wright, director of Shaun of the Dead], although we've not announced anything yet. I mean, really the official stuff is Avengers and then Iron Man 3—those are the most active, of course. As I said earlier, Don Payne is working on the story for Thor 2, should we be so lucky, and our writers, Chris Markus and Stephen McFeely, who did Captain America for us, are starting to work on Captain America 2 because if we are going to make a sequel, we want to be ready, we want to be prepared for it. But we're not focusing a whole lot of attention on that right now because we're focusing on the first ones—and without that, there won't be anything else. And then there's the wish list—there's Doctor Strange, which I've been talking about for years, and Black Panther, more of the blue-sky development that comes down the line.
I don't think the idea of a Thor or Captain America sequel will come as a surprise to anyone, and Feige has indeed been discussing Ant-Man, Doctor Strange, and Black Panther for a while now. Still, it's nice to see that those films are all still possibilities. Read the full interview for more insight on how Marvel's superhero films are developed and plotted, and what the studio looks for in a director. [Box Office Magazine]