Casting Bits: Nicole Kidman In 'Spectre;' Mark Strong In 'Welcome To The Punch;' Amber Heard In 'Syrup'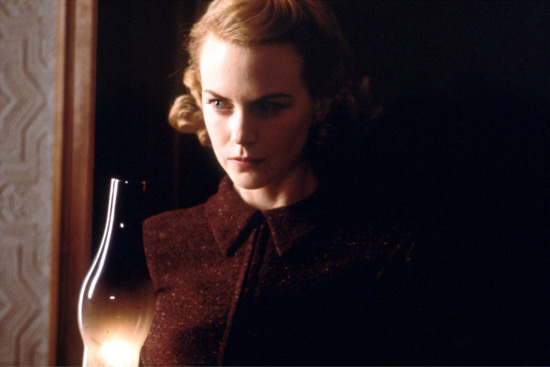 There's a reason this article is illustrated with a ten-year old image of Nicole Kidman in The Others: she's not quite a stranger to making low-budget chillers, and now she seems to be tapped for a new one. Saw and Insidious director James Wan is putting together a movie called Spectre, and a throwaway mention in a Variety report on Cannes sales mentions that Nicole Kidman  is in talks to star. We don't know what the film is, but knowing James Wan's general M.O. I'll let you guess the basics. Nicole Kidman already has one thriller in the can for this year (Joel Schumacher's Trespass, with Nic Cage) and may be Park Chan-Wook's Stoker and/or Sam Raimi's Oz the Great and Powerful. But I'll admit: fond memories of The Others make me hope this comes together.
After the break. Mark Strong gets ready to punch, and Amber Heard is in a film called Syrup.
The Eran Creevy script Welcome to the Punch has a name I still can't quite accept, but the contents are reportedly quite good. The script placed on the Brit List in 2010, and the project is moving forward with financing sales at Cannes, with James McAvoy as one of the leads. Now the great Mark Strong is also part of the cast, as THR off-handedly mentions in one of many Cannes sales pieces.
The script follows detective Max Lewinsky (McAvoy) and his involvement in a pretty massive conspiracy plot. The writer/director calls this one "an epic crime thriller in the mould of Heat or Internal Affairs," while others have mentioned The Last Boy Scout as a touchstone.
Finally, Amber Heard and Shiloh Fernandez are set to star in the indie called Syrup, which Aram Rappaport is directing based on a book by Max Barry. The chief line of the story follows marketing tales "told through the soda industry and the backstabbing and corporate ladder climbing of twentysomethings trying to make it to the top." Possibly a good screen story, but I'm dubious about Shiloh Fernandez, after he utterly failed to convince me in Red Riding Hood. Granted, more than a few things failed to convince me in that movie, but he was the worst offender. So we'll see how this goes. [Variety]