Brett Ratner To Direct 'The 39 Clues'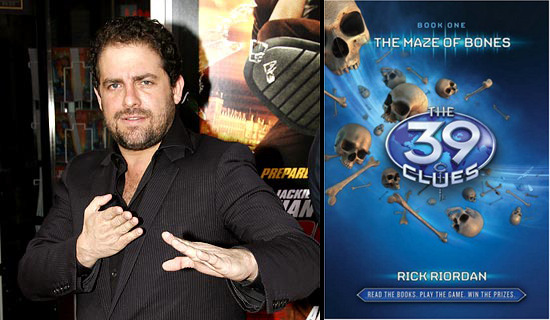 We may receive a commission on purchases made from links.
Because I know many of you just get all giddy when prospective new Brett Ratner films come up, here's his latest potential project: The 39 Clues, which is not an Alfred Hitchcock remake, but an adaptation of a young-adult book series. It sounds a bit like a kids' version of National Treasure, and all the details are after the break.
Deadline notes that this has been set up at DreamWorks since 2008, and was once a possible film for Steven Spielberg to direct. But now it has passed into different hands, and frequent Brett Ratner collaborator Jeff Nathanson has written the latest script. (He also wrote Catch Me If You Can, The Terminal and the story for Indiana Jones and the Kingdom of the Crystal Skull, making him the bridge between Spielberg and Ratner.)
So what's the story? The first book in the series, The Maze of Bones, goes like this:
When their beloved Aunt Grace dies, Dan, 11, and Amy, 14—along with other Cahill descendants—are faced with an unusual choice: inherit one million dollars or participate in a perilous treasure hunt. Cahills have determined the course of history for centuries, and this quest's outcome will bring the victors untoward power and affect all of humankind. Against the wishes of nasty Aunt Beatrice, their reluctant guardian since their parents' deaths, Dan and Amy accept the challenge, convincing their college-age au pair to serve as designated adult. Pitted against other Cahill teams, who will stop at nothing to win, the siblings decipher the first of 39 clues and are soon hot on the historical trail of family member Ben Franklin to unearth the next secret.
Like I said, a little bit of National Treasure, with a modern video game slant (there are card and video game components to the overall story) and also vaguely reminiscent of the '70s – '90s puzzle books that offered real-life prizes. (Like Masquerade, by Kit Williams. Adapt that, Brett Ratner! Better yet, don't.)
In all seriousness, though, while it has been so easy to slag Brett Ratner over the last few years, I remain very curious to see what he's done with Tower Heist, which comes out this fall with Ben Stiller, Eddie Murphy and Casey Affleck.