Stanley Tucci Cast In 'The Hunger Games'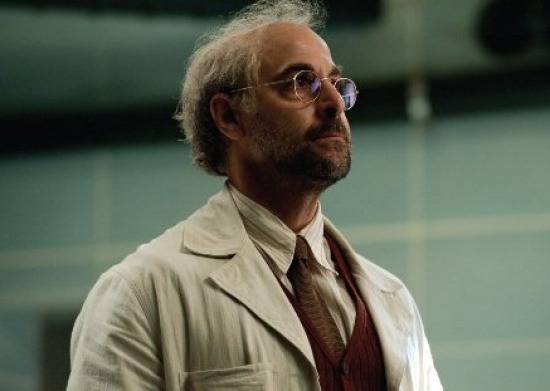 Stanley Tucci will get a chance to channel his inner Ryan Seacrest as he's been cast to play Caesar Flickerman in The Hunger Games. Flickerman is a popular, charismatic interviewer who speaks to the child Tributes on national television before they attempt to kill one another. He's famous for radically changing his appearance, always seeking out the positive and looking younger than his age. Tucci was rumored to be up for a mystery role a few weeks ago. That mystery has now been solved. Read more after the jump.
Lionsgate announced the casting via their new Twitter, @Lionsgatenews. Here's the press release:
Lionsgate and the filmmakers of THE HUNGER GAMES are pleased to announce that Stanley Tucci (THE DEVIL WEARS PRADA, CAPTAIN AMERICA, THE LOVELY BONES) has been cast in the role of Caesar Flickerman in the much anticipated film adaptation of Suzanne Collins' worldwide smash hit novel.
Caesar Flickerman is utterly familiar to all the citizens of Panem as the l host of the Hunger Games. Known for his outrageous appearance and buoyant personality, his upbeat interviews of the 24 tributes – a boy and a girl from each of the country's 12 districts – are presented on every television in the nation.  He is famous for turning any conversation around to the positive and finding humor in even the most dire circumstances.
Vulture reported a few weeks ago that Tucci was up for a role and it was speculated that he could play Cinna, Katniss's designer. Flickerman isn't as important as Cinna, but is very showy and will show up in the sequel, if it gets made. I ranked it the 6th most important role left to be cast while the five above it all remain up for grabs. What's important to note, though, is that with this confirmation, Vulture's source is obviously legitimate and well-informed. So the John C. Reilly and Woody Harrelson rumors could, still, come to fruition.
Are you guys fans of Tucci? How do you think he'll fair in The Hunger Games?