More Photos From The 'We Bought A Zoo' Set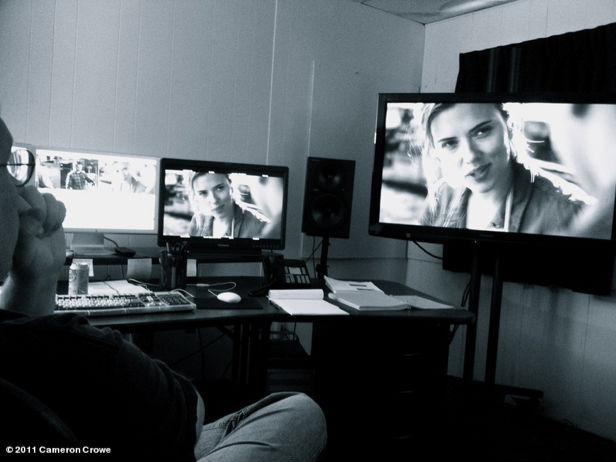 Cameron Crowe seems to be really enjoying Twitter. Not only has he been replying back to fans, he's continued to tweet photos from the set of We Bought a Zoo. Crowe's latest is scheduled for release on December 23 and stars Matt Damon as a man whose family buys and moves to a zoo after an untimely death. It also stars Scarlett Johansson, Elle Fanning, Thomas Hayden Church, Patrick Fugit, Angus Macfadyen, John Michael Higgins and others. Several of them – and the monkey from The Hangover Part II – are in the new photos that Crowe himself took and posted online.
Thanks to @CameronCrowe on Twitter and his official site The Uncool for these images.
Here's what he had to say about each image.
Asked her about "Hangover Pt. 2", all I ever got was this haunted stare.
John Michael Higgins between takes. Zoo Shoot Day 51.
Week one of the edit on Zoo. Soon... music...
Benjamin Mee, Milo, Ella visit the set! Rodrigo Prieto poses too. Great day.
As is pointed out on The Uncool, these aren't images from the film. They're just photos that Crowe has taken on set to share with fans which is most likely why they're all really big teases. It's not like we're seeing Matt Damon taming a lion or whatever, Crowe is doing his best just to give us a taste. Though, that edit bay photo at leaves gives us a look at Scarlett Johansson.
Do you think Crowe's history with journalism is helping him embrace new media and Twitter in particular? Is there anything in particular you are looking forward to seeing from the film before we get some official images?