'Final Destination 5' Trailer: Death Never Takes A Holiday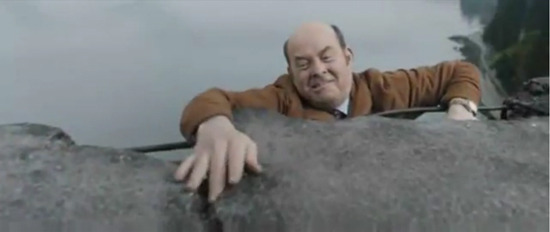 What adult woman brings a teddy bear to comfort her during Lasik? Thankfully, the answer is: one of the characters in Final Destination 5. The trailer for the fifth film in the 'kids cheat death' series is out and it shows what happens when you mess with death and then put yourself in the path of lasers and hot tar, or settle down for a nice acupuncture session. Check the trailer after the break but be aware — spoiler! — David Koechner's fate is revealed.
Nice to see Tony Todd really taking part in the action again. Beyond that, this looks cut from the same mold as all the other films in the series: kids survive something, then death pokes around after them for an hour. Some of the kids seem a bit more proactive this time,  and that bridge collapse looks pretty alright. Can it match up to the highway crash in the second film that stands as the series high point?
Update: Check out the HD version at Apple.
In this fifth installment, Death is just as omnipresent as ever, and is unleashed after one man's premonition saves a group of coworkers from a terrifying suspension bridge collapse. But this group of unsuspecting souls was never supposed to survive, and, in a terrifying race against time, the ill-fated group frantically tries to discover a way to escape Death's sinister agenda. The new victims of Death's plan are part of a cast led by Emma Bell (Frozen, TV's "The Walking Dead") and Nick D'Agosto (Fired Up!, TV's "Heroes"). The film is being shot on location in Vancouver, Canada. The second of the "Final Destination" films to be shot in 3-D, Final Destination 5 is being directed by Steve Quale, marking his major feature film directorial debut.
Final Destination 5 opens on August 12. (Oh, and @elguapo informs me that stuffed animals might be provided by the Lasik office to comfort patients. I did not know this. TIL about Lasik offices.)