One More 'X-Men: First Class' Character Trailer Re-Introduces Mystique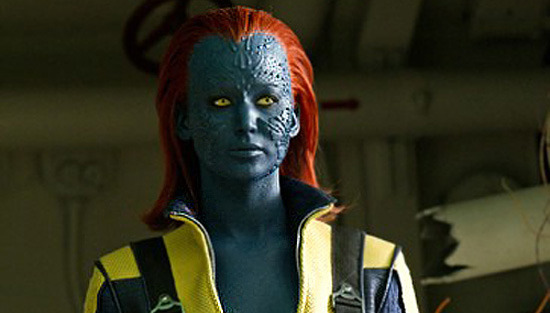 Of all the secondary characters in the X-Men universe, casual viewers might be most familiar with Mystique, mostly because in previous films she was played by Rebecca Romijn wearing little more than blue paint and contacts. Makes for a memorable portrayal, even if her version of the character really didn't get to do all that much.
Yesterday we saw character trailers from Matthew Vaughn's  X-Men: First Class for Beast, Havok and Banshee, and now there is one for the new version of Mystique, who is played by Jennifer Lawrence. This shows that there is a lot more going on with the character in this film than in previous X-movies.
Some of this overlaps with the Best character trailer, which is too bad, but we do get to see a very young Mystique manifest her powers very early in time. And there's a good moment with Michael Fassbender, too. I like that this version of the character seems a good bit more grotesque than the previous film incarnation; while I was happy to look at Rebecca Romijn as Mystique, that super-sexy portrayal never seemed to correlate to the best comic versions of the character. We'll see if Matthew Vaughn and Jennifer Lawrence get closer to the mark with this version.
X-Men: First Class was directed by Matthew Vaughn, and opens on June 3. It also stars James McAvoy, Rose Byrne, January Jones, Kevin Bacon, Nicholas Hoult, Caleb Landry Jones, Lucas Till, Edi Gathegi, Jason Flemyng, Oliver Platt, Morgan Lily, and Zoe Kravitz.
[Facebook]