Brendan Fraser Starring In 'William Tell 3D' And Historical Drama 'Four Kings'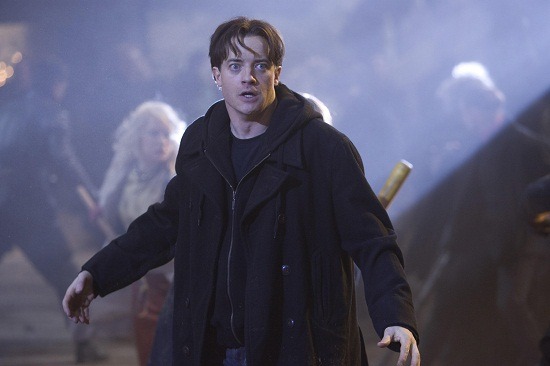 If it feels like Brendan Fraser is suddenly everywhere, that's because he is. After being relatively low-profile for a couple years he is about to be in several films: he's shooting the Belfast-based heist comedy Whole Lotta Sole right now, will soon shoot Gimme Shelter (playing against type as a less than accepting father) and now has two new roles.
He'll be in the 'sweeping epic historical drama' Four Kings (not a sequel to Three Kings, fortunately) that will shoot late this summer in Toronto with Damien Lee directing. And he'll play the title role in William Tell 3D (ok, not so exciting) from director Nick Hurran, a Doctor Who vet. More info on both new films is after the break.
Deadline broke word of Four Kings yesterday, saying that it will be "set against the French and Indian War that essentially divided North America," with Brendan Fraser playing " Colonel Lord Francis Nicholson, a vastly wealthy Brit who self-finances the war in the hope of creating a utopian society in what is now Canada."
And then a press release announces that William Tell 3D will shoot this summer in Romania and Switzerland based on a script by Scott Reynolds. Another fairy tale sorta thing? Sigh, why not? At least this one is trying to throw in some historical background. The producers are trying to land Anna Paquin and Til Schweiger as well, and announce the core of the story:
In the legend, Tell just can't leave well enough alone.  The local potentate of the Hapsburg monarch, Hermann Gessler forces Tell to shoot the apple because he refused to bow before Gessler's hat, erected in a town square.  Tell succeeds in cleanly (and safely) cleaving the fruit and wins his and his son's freedom.  But Gessler asks Tell why he had two arrows is his quiver, and Tell replies he was going to shoot Gessler with the second if he'd missed.  Tell's defiance of Gessler ignited an uprising against the Austrian government which led to the formation of Switzerland.   If confirmed, Paquin will play Zora, Tell's wife and Schweiger will play Gessler.
Oh, and he'll also voice Scortch in The Weinstein Company's film Escape From Planet Earth, about "a group of aliens plotting to escape that top-secret Nevada compound popular with conspiracists known as Area 51." That one has been kicking around in development for years, and is evidently now finally starting to come together with Cal Brunker (storyboard artist, Despicable Me and 9) directing.