Will Smith The Frontrunner For Quentin Tarantino's 'Django Unchained'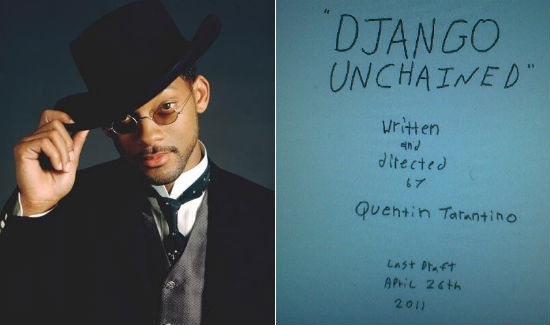 When Quentin Tarantino makes a casting wishlist, he sets his sights high. "High" as in one of the biggest box office stars in the world. The writer/director is currently meeting about his upcoming spaghetti Western Django Unchained and people involved in the meetings have revealed to The Hollywood Reporter that the director's top choice for the lead role of Django, a freed slave who is trained by a German bounty hunter to save his wife, is none other than Will Smith.
The Hollywood Reporter also says that Samuel L. Jackson is circling as role as is Christoph Waltz, who was confirmed by William Morris Endeavor but he himself denied involvement. Jackson's role would be as the head slave of the bad guy, Monsieur Calvin Candie, who would face off with Django and Waltz is being eyed as the bounty hunter, the film's second lead.
Smith hasn't been in a major motion picture since 2008's Seven Pounds but is currently filming next summer's Men in Black III and is attached to star alongside his son, Jaden in a sci-fi film written and directed by M. Night Shyamalan.
According to The Hollywood Reporter, no formal offer of any kind has been made to Smith but any deal would hinge not only on his attraction to the part but availability and some kind of financial understanding. There's probably no way The Weinstein Company can afford Smith's huge going salary. Then again, working with Tarantino has made every single actor out there cooler, so it seems like dropping that number could be a smart decision for Smith.
In fact, Variety has a slightly contrary report that says Smith has already informally be offered the role and that he would definitely be willing to forgo his usual huge salary. They also say that both Brad Pitt and Leonardo DiCaprio have passed on the project.
Can you picture Will Smith starring as a bounty hunting slave, fighting Samuel L. Jackson alongside Christoph Waltz? Me either. But it does sound pretty cool and would almost guarantee that Django Unchained would be Tarantino's biggest box office success yet.