Neil LaBute Reteams With Aaron Eckhart In 'The Geography Of Hope'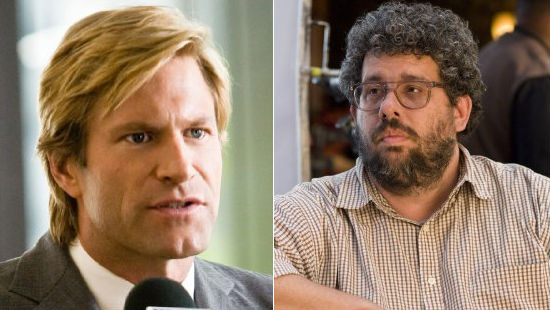 Neil LaBute's career has taken him to some crazy places. He started off with the visceral and brutal In the Company of Men and followed that up with more films sharing the same dark humor, honestly and venom. At some point though, things changed and he became more of a mainstream director with films like Lakeview Terrace and the abysmal The Wicker Man and Death at a Funeral remakes. It seemed like his talent for inciting controversy had gone away.
It now seems like he's attempting to blend those more mainstream sensibilities with his earlier independence as he's set to reteam with the star of his earlier films, Aaron Eckhart, as well as Ed Harris, for The Geography of Hope. The script was written by LaBute, well before he achieved success, and follows two thieves who flee to Mexico only to find another problem: whether to rob or romance all the beautiful women they meet. Read more after the jump.
The Los Angeles Times 24 Frames blog broke the news of this new project and described it in a bit more detail:
In the 1970s-set story, two crooks (Eckhart and Harris) flee to Baja, Mexico, after a robbery in a San Diego convenience store goes bad. There they encounter several American women, and they find themselves torn between the impulse to grift the ladies and romance them.
Producers confirmed that they hope the project will shoot later this year in Puerto Rico.
It was always a big question mark if LaBute was going to be able to make a career of thought-provoking, almost masochistic films like In the Company of Men, Your Friends and Neighbors or The Shape of Things, so it was never a real surprise that he moved onto other things. What was a surprise was that the films he went onto make could be so bad and totally not thought-provoking. The Geography of Hope, however, seems like it could blend a more accessible heist narrative with the adult themes LaBute is truly best at.