Possible Problems Arise For Stephen King's 'The Dark Tower' [UPDATED]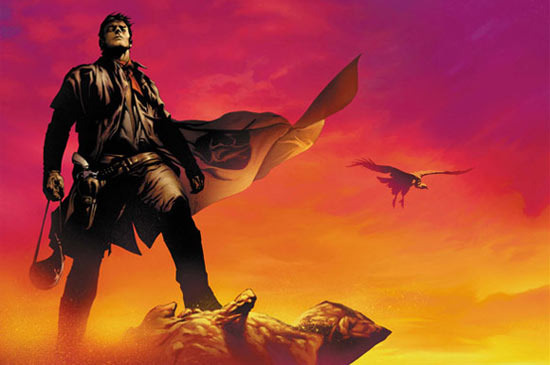 UPDATE: Bad news. Deadline is now reporting that pre-production staff on The Dark Tower has been put on hiatus as the budget issues are worked out. Read more after the jump.
Just when things seemed too good to be true for fans of Stephen King's The Dark Tower, that just might be the case. Last year, Universal announced an ambitious plan to adapt the popular series of novels beginning with a film version directed by Ron Howard and followed by multiple theatrical sequels and television events covering the seven current books. The series tells the sprawling and epic tale of Roland Deschain, the last in a mythic order of men called The Gunslingers, who is on a quest through a magical western world to find the Dark Tower, where all answers will be revealed. Brian Grazer was set to produce, Akiva Goldsmith was writing the script and Oscar-winner Javier Bardem was all but set to play Deschain. Things were looking good.
Now Variety reports that Universal is beginning to have second thoughts on the epic production and, in the coming days, could decide to put it in turnaround. That could result in another studio taking over or the project dying a slow death.
In the Variety story they are very clear in stating that "as of Thursday, Universal is moving ahead as if the project is going forward. The studio had no comment." But that doesn't change the fact that their sources tell them the executives are having second thoughts. (Note from Russ: THR also ran a piece about the film possibly going into turnaround, but that article was very quickly taken offline. Strange stuff.)
The problem, of course, has to do with money. As budgets were hammered out for the film and its subsequent installments, the numbers seem to have gotten a bit too big for Universal to stomach on their own. If they choose to put the project in turnaround it would allow Grazer and Howard's Imagine Entertainment to shop the project to other studios, either to take over entirely or co-finance with Universal. Or, if no one takes the bait, the project would – for all ostensible purposes – die.
You might remember that Universal pulled a similar trick a few months back with Guillermo Del Toro's At the Mountains of Madness. The film was being cast, going through pre-production, but when it was time to pull the trigger, a $150 million R-rated monster fantasy just didn't seem economically feasible. Even with James Cameron producing, Guillermo Del Toro directing and Tom Cruise starring, the project was killed.
As of this moment, the first installment of The Dark Tower is still on, scheduled for a May 17, 2013 release. Just don't be surprised if that changes before the two year countdown clock begins.
UPDATE: Deadline is now reporting that pre-production staff on The Dark Tower has been put on hiatus as the budget issues are worked out. That means a potential September start date has been canned and while Universal has yet to officially put the project in turnaround, stopping work on the project is the first step. Read more at Deadline but this is not good news.
UPDATE #2: THR has a damage control quote from Imagine president Michael Rosenberg, who denies the project is shelved and says, "Dark Tower is not in turnaround... there are issues and on-going budget discussions with almost every film in development."