'Haywire' Promo Posters Tease Arthouse Action From Steven Soderbergh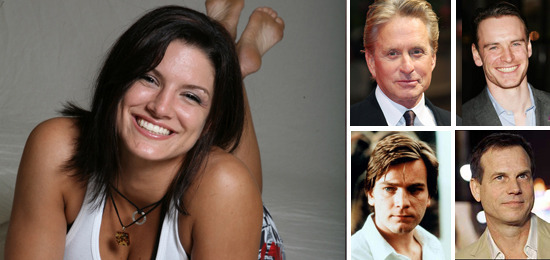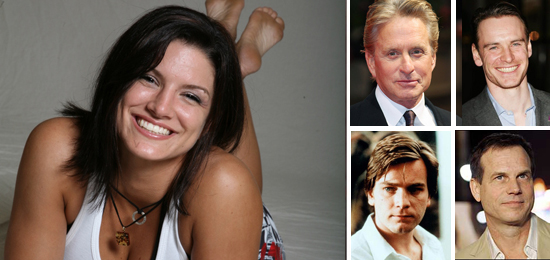 Steven Soderbergh has two big pictures coming down the pipe for 2011: Contagion, which he recently finished shooting, and Haywire, the thriller in which MMA fighter Gina Carano makes her big acting debut as a double-crossed black ops soldier who is out for revenge. We haven't seen very much at all from Haywire, despite the fact that the film is finished and test-screening, but now there are some great concept posters floating around.
These aren't likely to be final — more than likely when the movie actually hits theaters the one-sheet  art will foreground much of the strong supporting cast. (Like Michael Fassbender, Ewan McGregor, Michael Douglas and Antonio Banderas.) So take a look at this art now — there are some excellent images here.
The art is evidently by Neil Kellerhouse, who also designed the poster for The Girlfriend Experience. These sheets foreground Gina Carano, but not in the obvious way. (Hell, many of them look like they could be Warp Records single covers.) That one where she's standing behind a broken door is magnificent, as is the image where she's fighting Michael Fassbender on a bed. And the hand-scrawled one reminds me of the promo imagery for Olivier Assayas' film, Irma Vep.
This film was written by Lem Dobbs, who also wrote The Limey for Steven Soderbergh. That film was a big Point Blank homage in some ways, and I get a similar vibe from these posters, too — if this is even vaguely a spiritual successor to The Limey/Point Blank I'll be thrilled. There's no solid release date yet for Haywire, but we'll keep you posted.
[Sadly, we removed these images at the behest of Relativity Media, but we'll have new art when it becomes available.]
[GinaCarano.org via The Playlist]