Aardman Animation's 'The Pirates! Band Of Misfits' Casts Hugh Grant, Martin Freeman, David Tennant And More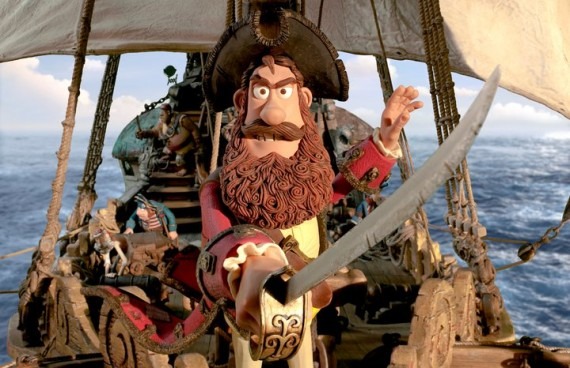 Sony and Aardman Animation have teamed for a new 3D stop-motion animated film, called The Pirates! Band of Misfits, based in part on Gideon Defoe's book The Pirates! In an Adventure With Scientists. (Which is also the film's title in the UK, I believe.) That isn't news, but the first still, above, and the announcement of the full cast definitely is.
Aardman co-founder and Chicken Run co-director Peter Lord is directing the film, which is animated in the now-classic Aardman clay figure style, and he's got Hugh Grant making his clay debut as the chap you see above. There are a bunch of other great names on hand to provide voices as well, and you can get the full list after the break.
The Pirates! Band of Misfits, in addition to Hugh Grant, will feature: Martin Freeman, David Tennant, Imelda Staunton, Jeremy Piven, Salma Hayek, Brian Blessed, Brendan Gleeson, Russell Tovey, and Ashley Jensen. That's all via a press release, which also gives up this synopsis booty, complete with a rundown of who's playing whom:
Hugh Grant, starring in his first animated role, is the luxuriantly bearded Pirate Captain – a boundlessly enthusiastic, if somewhat less-than-successful, terror of the High Seas.  With a rag-tag crew at his side (Martin Freeman, Brendan Gleeson, Russell Tovey, and Ashley Jensen), and seemingly blind to the impossible odds stacked against him, the Captain has one dream: to beat his bitter rivals Black Bellamy (Jeremy Piven) and Cutlass Liz (Salma Hayek) to the much coveted Pirate Of The Year Award.  It's a quest that takes our heroes from the shores of exotic Blood Island to the foggy streets of Victorian London.  Along the way they battle a diabolical queen (Imelda Staunton) and team up with a haplessly smitten young scientist (David Tennant), but never lose sight of what a pirate loves best: adventure!