First Look: Pixar's New Short 'La Luna'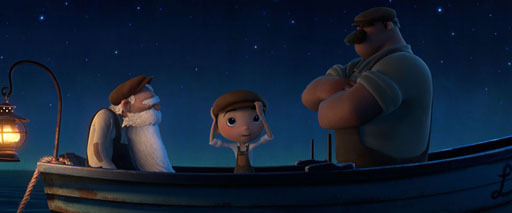 One of Pixar's upcoming short efforts is a film called La Luna, about a young boy coming of age in peculiar circumstances. The short is soon to premiere at the Annecy International Animation Festival, which runs June 6-11 in France. Enrico Casarosa directs and is Head of Story; he's been with Pixar since 2002, starting on Cars, with credits following on Ratatouille and Up. That link points to his own site with sketches and other work, some of which is really great. I see a mixture of Tom Hart and Miyazaki in his book The Venice Chronicles, for example.
That's the first still from the short above; more info on La Luna is after the break.
This is the official synopsis:
La Luna is the timeless fable of a young boy who is coming of age in the most peculiar of circumstances. Tonight is the very first time his Papa and Grandpa are taking him to work. In an old wooden boat they row far out to sea, and with no land in sight, they stop and wait.  A big surprise awaits the little boy as he discovers his family's most unusual line of work. Should he follow the example of his Papa, or his Grandpa? Will he be able to find his own way in the midst of their conflicting opinions and timeworn traditions?
[Annecy, via Anne Thompson]