First Footage: Nicolas Winding Refn's 'Drive'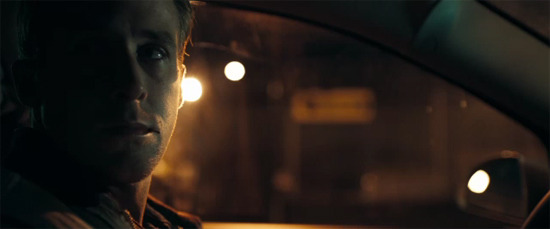 Sometimes, all it takes is two minutes of new footage from a great filmmaker to start the day off right. Here's your first look at a clip from Drive, the Nicolas Winding Refn film that stars Ryan Gosling as a stunt man / getaway driver. The clip is from very early in the movie, and makes me think that Refn has really managed to bring the script perfectly to life. The footage is tense and exciting, and juiced with a slow-boil energy that we don't see enough of lately.
Drive is based on the James Sallis novel about a Hollywood stunt driver who works nights as a getaway driver; in addition to Ryan Gosling, the cast features Carey Mulligan, Albert Brooks, Oscar Isaacs, Bryan Cranston, Christina Hendricks and Ron Perlman.
This clip kicks off as a heist is in progress, and shows the main character as an experienced, aware and shrewd practitioner of his craft. Those who haven't seen much of Refn's earlier work might think this has a strong Michael Mann vibe, especially with echoes of Collateral. To me it looks quite a lot like something that could have been in one of the first two Pusher films, only with a higher budget.
So, memo to producers: this is what a badass looks like. Smart, good at what he does, cool under pressure, but ready to go into action when the situation calls for it. I watch most action movie clips trailers and don't care much about the flashy guy doing impossible fighting moves. I see this and can't wait to see more of who this character is and how he creates and escapes trouble.
The clip is from the Cannes site, and sadly isn't embeddable. Click the player below to head over there; should an embed become available we'll provide. Drive plays in competition soon at Cannes, and will open in the US on September 16.