Sequel Bits: Justin Lin Denies 'Terminator 5' Casting Rumors; 'Pirates Of The Caribbean 5' Script Is Done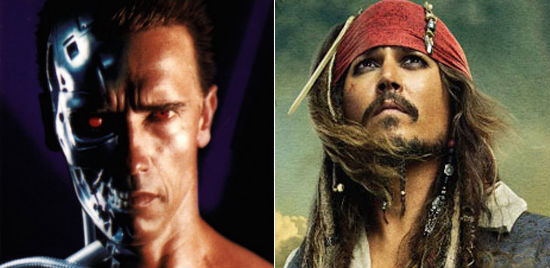 The fifth movies in two franchises both have significant updates today. Justin Lin, who just finished another fifth franchise movie with Fast Five, exclusively spoke to MTV about his plans for Terminator 5, which he'll direct with Arnold Schwarzenegger reprising his role. Not not only did he deny recent reports that the original cast will be back for the new film but hinted that he doesn't want to be beholden to the continuity of the third and fourth films in the series: Terminator: Rise of the Machines directed by Jonathan Mostow and Terminator Salvation directed by McG. Plus, he's unsure if he'll tackle that film next or the sequel to Fast Five.
In other "five" news, screenwriter Terry Rossio has already finished, and turned into Disney, the script for Pirates of the Caribbean 5. With the fourth film, Pirates of the Caribbean: On Stranger Tides, mere weeks away from release, everyone seems excited about the follow up except one key component: Johnny Depp. He'll do it, but says "We should hold off for a bit."
Read Lin and Depp's quotes plus more after the jump.
Last week, news broke that Justin Lin and Arnold Schwarzenegger would team up for a fifth Terminator film and that the rights to produce and distribute that film, which has yet to be written, we being shopped around. So, when speaking to MTV, Lin was shocked that rumors began circling about the original cast coming back considering the movie hasn't been picked up or written yet:
I don't know where that came from. Everything has just been between me and Arnold, you know? Just us going out and trying to find the right partners. I have certain elements, but it's never been about, 'Hey, let's bring everybody back!' I just don't process that way. To me, thematically, there are certain things that I want to see in a 'Terminator' movie. A lot of that does draw back to creating this timeline that is an extension, closer tonally to the first and second movies. But to me, it's not as mathematical as, 'Hey, let's get everybody back together and we'll shoot the movie.'
And while Lin doesn't want to destroy the movies that came before his, he doesn't want to be beholden to them either, just work in the same kind of world that James Cameron created:
I always feel like what's great about the 'Terminator' franchise is that there's time-travel and there are different timelines to play with. There are also a lot of gaps from what we love about all of the 'Terminator' movies, so there's a lot of things we can do and play with. To me, all of that, I don't really want to discuss it now. That's part of the fun of developing. But the bigger questions for me are always the characters and the themes. You want to start there. But obviously, answering your question, ['Terminator'] does have that capability, finding fresh ways of going back without destroying other [movies], because you can tell your own stories.
MTV's exclusive interview ends with Lin saying that he isn't sure if he'll concentrate on Terminator 5 or Fast Six next:
We're talking to different studios [about Terminator], but it has to be the right situation. If it's not right, then I could totally move on and I should move on. Probably in the next three or four weeks, I'll have a very clear picture [of what's next.]
When you have massive success, that's the kind of freedom you afford yourself. Justin Lin now has it and Johnny Depp has had it for a while. According to the Hollywood Reporter, screenwriter Terry Rossio has just finished the still untitled script for Pirates of the Caribbean 5 but Johnny Depp, who just finished playing Captain Jack Sparrow, doesn't want to jump into production just yet, even though producer Jerry Bruckheimer and direct Rob Marshall seem ready to go:
It boils down to story, script and filmmaker, It's not something where I would say, 'Let's shoot it next month to get it out by Christmas 2012, We should hold off for a bit. They should be special, just like they are special to me.
Depp has plenty on his plate in the meantime so he certainly doesn't have to jump into another Pirates film. The question becomes, how long until Disney makes him an offer he can't refuse.
Do Lin and Depp's comments inspire confidence in each of these projects?