Focus Features And LAIKA Now Filming 'ParaNorman,' With Voices Of Casey Affleck, Kodi Smit-McPhee And Anna Kendrick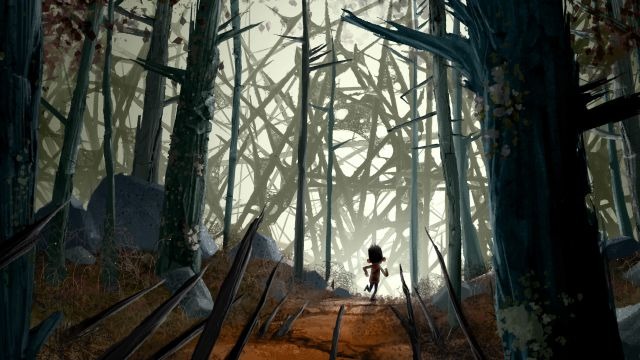 In 2009 Focus Features and LAIKA released Coraline, the great stop-motion animated adaptation of Neil Gaiman's kids' book of the same name. Now the companies are teaming again for two more stop-motion 3D films. The first is ParaNorman, which will be released on August 17, 2012. The second is an unnamed project that will be released in 2014.
The voice cast and plot for ParaNorman were sent out today via press release; check the details below.
Chris Butler (Coraline storyboard supervisor) wrote ParaNorman, and he and Sam Fell (The Tale of Despereaux, Flushed Away) are co-directing. Focus describes the movie like so:
In the comedy thriller, a small town comes under siege by zombies. Who can it call? Only misunderstood local boy Norman, who is able to speak with the dead. In addition to the zombies, he'll have to take on ghosts, witches and, worst of all, moronic grown-ups, to save his town from a centuries-old curse. But this young ghoul whisperer may find his paranormal activities pushed to their otherworldly limits.
The voice cast has some names you'll like: Kodi Smit-McPhee (Let Me In, The Road) in the lead, with Casey Affleck, Tempestt Bledsoe, Jeff Garlin, John Goodman, Bernard Hill (Titanic), Anna Kendrick, Leslie Mann, Christopher Mintz-Plasse, and Elaine Stritch (30 Rock).
More from the press release follows. I'm looking forward to seeing the designs (that's one piece of concept art, above) and, having enjoyed Coraline quite a lot, am simply looking forward to seeing more stop-motion animated features from LAIKA.
Arianne Sutner, animation producer on The Life Aquatic with Steve Zissou, and Travis Knight are producing ParaNorman. Academy Award winner Brian Van't Hul (King Kong, Coraline) is the movie's visual effects supervisor; Emmy Award winner Nelson Lowry (Fantastic Mr. Fox, Tim Burton's Corpse Bride) is its production designer; and Tristan Oliver (Fantastic Mr. Fox, the Academy Award-winning Wallace & Gromit in The Curse of the Were-Rabbit) is the director of photography on ParaNorman.
Mr. Schamus commented, "Everyone at Focus is proud to be partnered with LAIKA again on their newest wondrous creations. Travis Knight is both an extraordinary businessman and a visionary artist who we know will shepherd these projects with imagination and originality. We're thrilled to have ParaNorman as our next movie together, one which marries the stunning visuals of 3D stop-motion with a compelling, heartfelt, and funny story anchored by a terrifically relatable underdog hero."
Mr. Knight added, "ParaNorman is a story of intense beauty and emotional truth. It's audacious, has genuine heart, and is funny as hell. We're incredibly excited to share this wonderful story with the world.  And we're privileged to work again with Focus Features, with whom we share a commitment to bold, distinctive, and enduring films.  LAIKA and Focus are truly kindred spirits. James Schamus and his extraordinary team have built their reputation on original thinking, old-fashioned muscle, and an unerring fidelity to creatively rich and thematically challenging cinema. We're thrilled to extend the relationship that began with Coraline and look forward to being a part of the Focus/Universal family for years to come."
Last year, LAIKA announced that that Chris McCoy and former Pixar director/story artist Jan Pinkava are writing a new project for the studio titled Little White Lie, which Jan Pinkava will direct, as well as other projects including an adaptation of Alan Snow's bestselling book Here Be Monsters!, about a 12-year-old boy who lives underground in London in the 1850?s. ParaNorman was also part of that announcement, so one of these other two projects could be the studio's 2014 film.