/Film LA: Hero Complex Film Festival Features 'Dick Tracy' With Warren Beatty, 'Superman' With Richard Donner, 'Iron Man' With Jon Favreau And More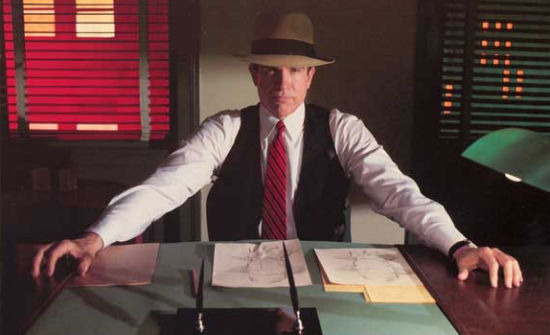 Dick Tracy, Iron Man, Captain Kirk, Superman and the Incredibles will all be represented at the upcoming Hero Complex Film Festival. Presented by the Los Angeles Times Hero Complex, it'll not only feature screenings but in depth Q&A's with several important and influential filmmakers.
The event runs from June 9-12 at the Chinese 6 Theater in Hollywood CA and kicks off with a screening of Dick Tracy followed by Q&A with Warren Beatty. Day two starts with Star Trek II: The Wrath of Kahn featuring writer/director Nicholas Meyer in person, followed by the 2009 Star Trek with special guests, and Star Trek 2 screenwriters, Roberto Orci, Alex Kurtzman and Damon Lindelof. Day three features Richard Donner discussing Superman and Superman II, with a special appearance by Geoff Johns and on the last day animator Dave Mullins presents The Incredibles and then Jon Favreau will be on hand to screen and discuss Iron Man and Iron Man 2.
After the break, find out how you can get tickets and more.
All the Q&A's will be moderated by Geoff Boucher, fellow fanboy and founder of the Hero Complex. Tickets for the double features are $45 each and Dick Tracy is $29.75. The Incredibles is free. Also, for a limited time, there are full festival passes available at the bargain bin price of $125, granting you access to all of the events. That's obviously the best way to do it because even though for each event you get two movies and an awesome Q&A, the prices are mighty, er, pricey. You can buy all the tickets here.
If you don't live in Los Angeles, keep it locked here to /Film as we'll be attending the event and reporting back on all the fun and interesting stories, news pieces and more.
Here's the full schedule:
HERO COMPLEX FILM FESTIVALOfficial Event ScheduleThursday, June 9Dick Tracy (1990)
Runtime: 101 min
Stars: Warren Beatty, Al Pacino, Madonna, Glenne Headly
Special Guest: Warren Beatty (producer, director and star)
***
Friday, June 10Double FeatureStar Trek II: The Wrath of Khan (1982)
Runtime: 113 min
Stars: William Shatner, Leonard Nimoy, Ricardo Montalban
Special Guest: Nicholas Meyer (writer/director)
Star Trek (2009)
Runtime: 127 min
Stars: Chris Pine, Zachary Quinto, Eric Bana
Special Guests: Roberto Orci & Alex Kurtzman (writers), Damon Lindelof (producer)
***
Saturday, June 11Double FeatureSuperman (1978)
Runtime: 143 min
Stars: Christopher Reeve, Margot Kidder, Gene Hackman
Superman II: The Richard Donner Cut (2006)
Runtime: 115 min
Stars: Christopher Reeve, Margot Kidder, Gene Hackman, Terence Stamp
Special Guest: Richard Donner (director)
Special guest appearance by Geoff Johns (Chief Creative Officer, DC Entertainment), who will discuss working with Richard Donner and the big-screen future of the DC Universe.
***
Sunday, June 12
Two Events
Free Matinee Screening*The Incredibles (2004)
Runtime: 115 min
Featuring the voices of: Craig T. Nelson, Holly Hunter, Jason Lee, Samuel L. Jackson
Special Guest: Dave Mullins (supervising animator), followed by a special preview of footage from Disney-Pixar's Cars 2.
DOUBLE FEATUREIron Man (2008)
Runtime: 126 min
Stars: Robert Downey, Jr., Jeff Bridges, Gwyneth Paltrow, Terrence Howard
Iron Man 2 (2010)
Runtime: 124 min
Stars: Robert Downey, Jr., Mickey Rourke, Don Cheadle, Gwyneth Paltrow
Special Guest: Jon Favreau (director/producer)
* Admission for free matinee screening is included for all Festival Pass holders.  Remaining seats must be reserved via a separate RSVP list, with admission on a first-come, first-served basis.