Edgar Allan Poe Thriller 'The Raven' Loses Title, Gains Release Date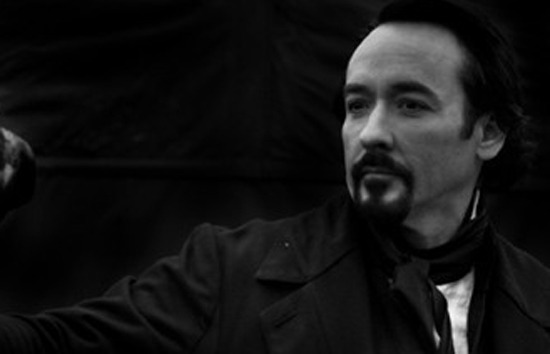 A couple quick updates on James McTeigue's The Raven today: The Edgar Allan Poe thriller, starring John Cusack as Poe, has lost its title, and is currently being referred to by the working title The Untitled Raven Project. On the plus side, the film now has an official release date of March 9, 2012. Read more about the project after the jump.
The Untitled Raven Project is a fictionalized account of Poe's last days, in which the legendary American writer (Cusack) teams up with a young detective (Luke Evans, Clash of the Titans) to hunt down a serial killer whose crimes are inspired by Poe's work. Alice Eve (She's Out of My League) plays Poe's fiancee. Brendan Gleeson (In Bruges) and Oliver Jackson-Cohen (Going the Distance) also star. McTeigue has described the movie in the past as "like the poem, The Raven, itself, crossed with Se7en." McTeigue (Ninja Assassin, V for Vendetta) is directing from a script by Ben Livingston and Hannah Shakespeare.
Interestingly, the real Poe's death was as weird and mysterious as anything you might find in one of his horror stories: In October of 1849, Poe was found wandering the streets of Baltimore in a delirious and disheveled state, wearing what appeared to be someone else's clothes. Poe was taken to the hospital, where he died a few days later. On the last night before his death, he kept repeating the name "Reynolds." Poe never gained enough coherence to explain what had happened to him, and the "Reynolds" in question has never been identified.
Discuss: Now that "The Raven" is no longer an option, what would you title this project?