'Hell On Wheels' Trailer: AMC Goes West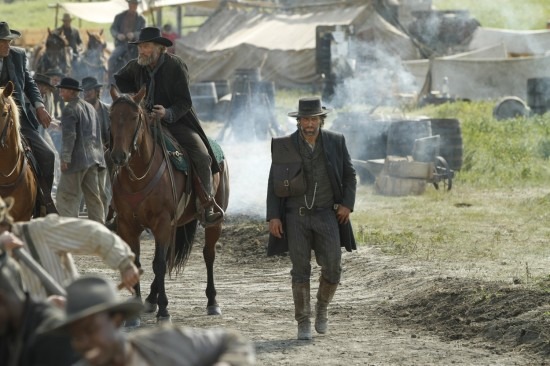 In March of this year, the show Hell on Wheels, a Western set during the building of the Transcontinental Railroad, started shooting in Alberta. The series is AMC's latest foray into Big Television — ten episodes have been ordered to begin telling the story of a man seeking to avenge the death of his wife at the hands of Union soldiers. See the first footage, after the break.
The cast includes Anson Mount (Hick, the Straw Dogs remake) as Cullen Bohannon, a Confederate soldier in search of revenge; Dominique McElligott (Sam Rockwell's wife in Moon) as Lily Bell, "a housewife caring for her ill husband," and Common playing Elam, a freed slave. Additionally, Colm Meaney, Ben Esler, Eddie Spears, and Philip Burke are cast. You'll see most of them here, in glimpses at least.
So how does the footage look? Not bad, so far. There's some good stuff here, but it is difficult to crawl out from under the massive shadow cast by Deadwood. The modern TV Western is so defined by David Milch's show that anything else has to work harder than normal. So let's give Hell on Wheels some time — it won't be out until later this year. Besides, Common looks like he might be a standout here, and that would be pretty alright.
The official site has this info: "Hell on Wheels is a contemporary western about post-Civil War America that focuses on a Confederate soldier who sets out to exact revenge on the Union soldiers who have killed his wife." There's also this:
His journey takes him west to 'Hell on Wheels,' a dangerous, raucous, lawless melting pot of a town that travels with and services the construction of the first transcontinental railroad, an engineering feat unprecedented for its time. The series documents the railroad's incredible feat of engineering and construction as well as the institutionalized greed and corruption, the immigrant experience, and the plight of the newly emancipated African-Americans during reconstruction. Over time, "Hell on Wheels" chronicles this potent turning point in our nation's history, and how uncivilized the business of civilization can be.
Thanks to /Film reader Andrew for pointing this out.