Cameron Crowe Joins Twitter, Tweets 'We Bought A Zoo' Images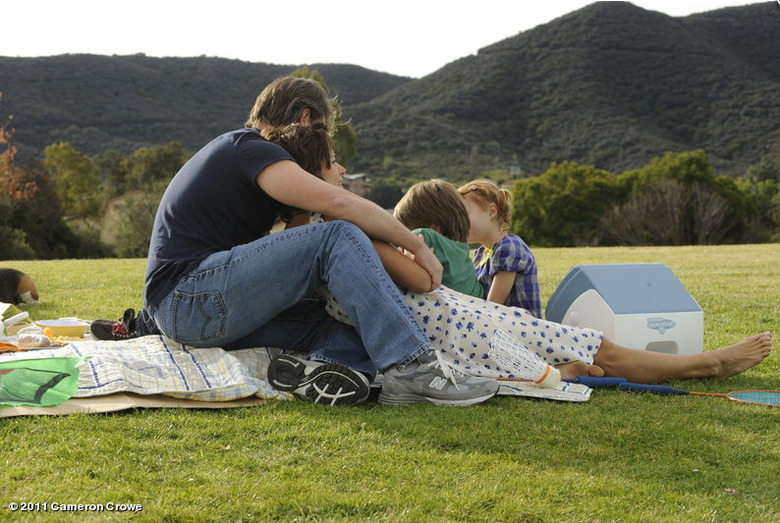 Cameron Crowe is keeping busy. He just world premiered his Elton John documentary, The Union, at the Tribeca Film Festival, released the first trailer for his upcoming Pearl Jam documentary, Pearl Jam Twenty, is currently directing We Bought a Zoo and even started tweeting. The writer/director whose love of mass media was immortalized in Almost Famous recently joined Twitter, the popular social networking site, and immediately put it to good use with some never before seen shots from the set of his upcoming drama starring Matt Damon, Scarlett Johansson and more. Check them out after the break.
Crowe's twitter name is @CameronCrowe and we obviously suggest you follow him. Here are the photo's he's tweeted so far.
Clockwise from the top left, these are Crowe's descriptions of each photo from his official site.
Matt, Stephanie, Colin and Maggie. The Mee Family. Zoo Shoot Day # 1.
Sometimes life looks like an album cover. Zoo Shoot Day # 19.
First day, this lion wheeled around, lifting his leg and peed on me.
Matt Damon, and a large Grizzly named Bart. Zoo Shoot Day # 53.
We heard a few small nuggets of information about Crowe's latest film when Crowe's site The Uncool visited the set of We Bought a Zoo, which is still scheduled for release December 23, but other than that, things have been pretty quiet. That's probably for the best. As we all know, a Crowe film isn't a Crowe film until the final print is struck as every aspect of the movie – especially the music – is of the utmost importance.
To recap, here's the Amazon description of We Bought a Zoo, which is based on a book by Benjamin Mee:
When writer Mee's father died, his mother needed to sell the house and move to a smaller place—so the entire family decided to buy a zoo. Mee's sister had seen an advertisement for the sale of the Dartmoor Wildlife Park, a small zoo in Devonshire in the southwest of England. After a long series of negotiations, licensing snafus, and the inevitable family conflicts, the author, his mother, and his brother moved into the park's rundown house and started running a zoo. Though they owned the grounds and its 200 animals outright, they still had to pay 20 staff members, feed the animals, and upgrade the grounds. During the first week, a jaguar escaped, and the author and his brother began to realize what they'd gotten themselves into. Through eradicating the plague of rats, clearing out years of rubbish to reveal usable buildings, and battling with banks for operating expenses, the author and his staff gradually pulled the zoo back from the brink of closure.
I'm certainly anticipating this film and love that Crowe now has a new platform to keep his fans in the loop. What do you think of these photos?