'Mortal Kombat: Legacy' Episode Four – "Kitana & Mileena (Part 1)"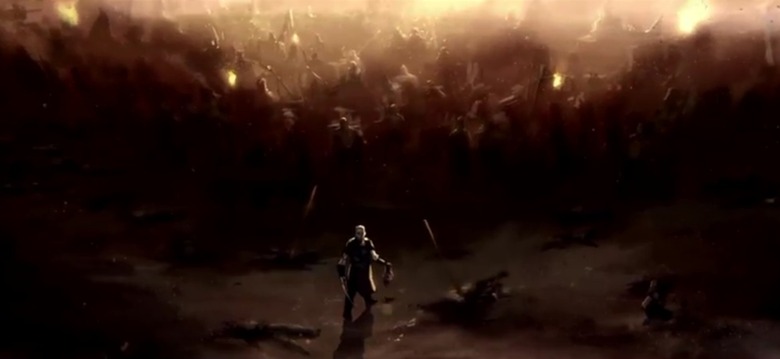 The first three episodes of Kevin Tancharoen's web series Mortal Kombat: Legacy, have focused on Earthlings Sonja Blade (Jeri Ryan), Stryker (Tahmoh Penikett), Jax (Michael Jai White) and Johnny Cage (Matt Mullins). For the fourth installment, the series leaves our planet behind for the land of Edenia, which has been taken over by the sinister Outworld empire. The new episode, titled "Kitana & Mileena (Part 1)" follows the origin of the Edenian "sisters," portrayed here by Samantha Tjhia and Jolene Tran. Aleks Paunovic plays their "father" Shao Khan, and Beatrice Ilg is Kitana's mother. Watch it after the jump.
[via ScreenRant]
I'm not too well-versed in Mortal Kombat mythology — I was always more of a Street Fighter girl, myself — so I can't speak to how faithful these webisodes have been to the source material. What I can say is that I've been enjoying the series so far. The stories are definitely entertaining, and I love the way Legacy's been changing up it style from episode to episode. "Kitana & Mileena (Part 1)" doesn't look like it's from the same series as last week's "Johnny Cage," and that's a good thing, or at least a fun thing. It's pretty obvious that the series is low-budget, especially in some of the earlier installments, and the acting isn't terribly high-caliber. But the series seems to be doing its best with what it has. There are less interesting ways to waste 10 minutes each week.
"Kitana & Mileena (Part 1)" is the fourth of the series' nine episodes. A new installment is released once a week, on Monday evenings at midnight.
Series description:
Mortal Kombat: Legacy brings to life the complex and rich history of the gaming world of MORTAL KOMBAT. Shao Kahn and Shang Tsung are obsessed with reigning over various realms (parallel universes) and the winners of Mortal Kombat competitions are granted supreme control over these worlds. The Earthrealm (Earth) is an unconscious participant in this competition and only a few select humans understand the consequences of losing Mortal Kombat and what it will mean to Earth. In a universe with powerful evil sorcerers, cyborgs, Gods and movie stars, this Mortal Kombat digital media series drives a cohesive understanding of what this Universe is all about.
"Kitana & Mileena (Part 1)" episode description:
Beautiful, athletic, and trained as highly skilled assassins, Kitana and Mileena have grown up thinking that they are sisters. Shao Kahn, Emperor of the Outworld, has tricked Shang Tsung into becoming his servant for Mortal Kombat by making him clone Mileena as a Tarkatan clone of Kitana, out of Shao Kahn's fear that Kitana wouldn't love him enough if she ever found out the truth about her Mother and Father.