Marvel Considering Stand-Alone Films For Hawkeye And Black Widow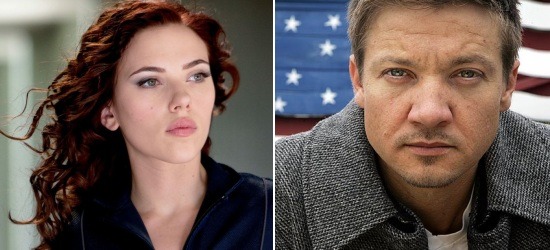 Between Thor, Captain America: The First Avenger, and X-Men: First Class, the upcoming season is already looking like the summer of Marvel. And between Spider-Man and The Avengers, next summer is looking pretty Marvel-heavy as well. But what of 2013 and beyond? What's Marvel got planned beyond Iron Man 3?
Marvel Films co-chief Kevin Feige hinted in a recent interview at a few things that might be officially announced later in the summer. The juiciest bit of info? Marvel is seriously considering standalone features for Black Widow and Hawkeye (the characters played by Scarlett Johansson and the suddenly ubiquitous Jeremy Renner in the upcoming The Avengers film). Intriguing! Read more after the jump.
There's no definitive plans, but we have started talking and talking with Scarlett about what a Widow movie could be... Internally we've also started thinking what a 'Hawkeye' movie could be, how we could continue to explore the organization [which Samuel Jackson's Nick Fury leads] S.H.I.E.L.D, which has a pretty big part in 'Thor,' smaller parts in the two 'Iron Man' films and has a giant part in 'The Avengers.' [So it's like], what would a stand-alone "S.H.I.E.L.D." be like? It all goes back to the comics. Sometimes the answer is—when looking at a certain run of issues— 'no way' and sometimes the answer is 'maybe, let's continue to explore it' and certainly with Hawkeye and Black Widow those are two that we're exploring.
Feige has floated the idea in the past — last month, he told D23 Magazine that Black Widow, Hawkeye and the S.H.I.E.L.D. organization were "more than worthy and capable of carrying their own films." Still, the new interview seems to suggest that Black Widow and Hawkeye films are very real possibilities, rather than just random thoughts floating in the ether.
Other possibilities that Feige mentioned for upcoming projects included movies centered around Doctor Strange, Black Panther and/or Ant-Man. In addition, Feige has previously confirmed that Captain America and Thor would be likely getting sequels, assuming the films do well at the box office this summer. We don't know much about the Thor sequel yet, but Feige has already mentioned that the next Captain America movie would see the character in a modern-day setting. And of course, Iron Man 3 is already in the works.
We won't know Marvel's definite plans until the end of summer, when Feige expects to announce the upcoming roster of films. Part of the reason we're being made to wait, presumably, is that Marvel will want to see how its films do this summer before committing to expensive projects for 2013 and 2014. Personally, I'm guessing they'll do just fine. Here's hoping you like Marvel, because the studio shows no signs of slowing down anytime soon.
Discuss: What projects do you think Feige will announce at the end of summer? Would you see a Hawkeye or Black Widow film? Forget Marvel overkill — are we sick of Jeremy Renner yet?