'Terra Nova' Trailer Offers Better Look At Series' Old And New Worlds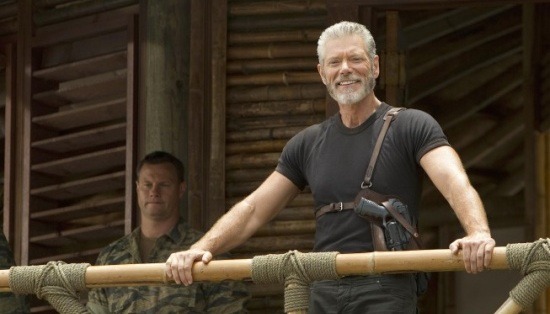 Production on Steven Spielberg's time-traveling dinosaur series Terra Nova has been notoriously rocky, but the marketing campaign, at least, seems to be right on track. We've seen a few teasers already, and Fox has now released a one-minute trailer for the series. The new clip offers a better look at the future world the settlers are leaving behind, as well as some of the dangers that await them in their new prehistoric home. Watch it after the jump.
[via Film School Rejects]
I know the series is set over a century in the future, but have none of their historians or scholars seen Jurassic Park? I could've told them that their "living among the dinosaurs" experiment would end up being a bad idea.
The new spot does nothing to dispel the impression that Terra Nova is Avatar meets Lost meets Jurassic Park. Whether that's a bad thing remains to be seen. On the one hand, you could do worse than to take inspiration from three hugely successful properties beloved for their exciting plotlines and impressive visuals. On the other, if Terra Nova turns out to be nothing more than a rehash of those earlier works, I probably won't be interested enough to keep tuning in week after week. So far, I think the show looks fine — it's got some slick visuals and the premise has potential — but the lines we've heard and the characters we've met so far don't exactly seem fresh.
After some rescheduling, Terra Nova is slated to premiere on FOX sometime this fall. An exact air date has yet to be announced.
Synopsis:
An epic family adventure 85 million years in the making, TERRA NOVA follows an ordinary family embarking on an incredible journey back in time to prehistoric Earth as a small part of a daring experiment to save the human race. In the year 2149 the world is dying. The planet is overdeveloped, overcrowded and overpolluted. With no known way to reverse the damage to the planet, scientists discover a portal to prehistoric Earth. This doorway leads to an amazing world, one that allows for a last-ditch effort to save the human race...a second chance to rebuild civilization and get it right this time.
The series centers on the Shannon family as they join the Tenth Pilgrimage of settlers to TERRA NOVA, the first colony established in this beautiful yet forbidding land led by its founder COMMANDER NATHANIEL TAYLOR (Stephen Lang, "Avatar"). JIM SHANNON (Jason O'Mara, "Life on Mars"), a devoted father with a checkered past, guides his family – wife ELISABETH (Shelley Conn, "Mistresses"); and children JOSH (Landon Liboiron, "Degrassi: The Next Generation"), MADDY (Naomi Scott, "Life Bites") and ZOE (newcomer Alana Mansour) – through this new land of limitless beauty, mystery and terror. In addition to blue skies, towering waterfalls and lush vegetation, TERRA NOVA offers new opportunities and fresh beginnings to its recent arrivals, but the Shannons have brought with them a familial secret that may threaten their citizenship in this utopia. These adventurers soon discover that this healthy, vibrant world is not as idyllic as it initially appears. The areas surrounding TERRA NOVA are teeming with danger – and not just of the man-eating dinosaur variety. The Shannons will come to suspect that not everyone on this mission has the same idea of how to best save mankind; in fact, there may be forces intent on destroying this new world before it even begins.