District 6 Tributes Announced For 'Hunger Games'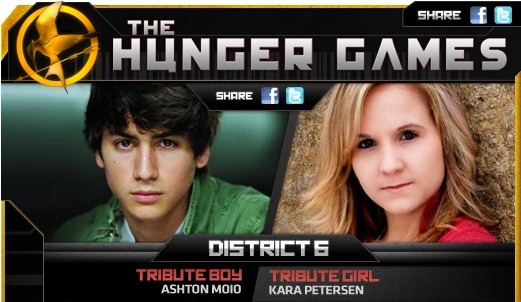 Casting for Gary Ross' The Hunger Games continues to move full steam ahead. Lionsgate has just announced Kara Petersen and Ashton Moio in the roles of the two District 6 tributes, who do not have names in Suzanne Collins' original book. Read more after the jump.
Petersen and Moio are the latest additions to a large cast that already includes — deep breath — Jack Quaid, Leven Rambin, Ian Nelson, Kalia Prescott, Ethan Jamieson, Tara Macken, Chris Mark, Jacqueline Emerson, Dayo Okeniyi and Amandla Stenberg as fellow tributes; Jennifer Lawrence as protagonist and District 12 tribute Katniss Everdeen; Josh Hutcherson as fellow District 12 tribute Peeta Mellark; Liam Hemsworth as Katniss' friend Gale Hawthorne; Elizabeth Banks as Katniss and Peeta's District escort Effie Trinket; Paula Malcolmson as Katniss' mother; and Willow Shields as Katniss' sister. In addition, Woody Harrelson, Stanley Tucci and Lenny Kravitz have reportedly been offered roles in the series.
If you think that's a lot of actors, just wait — there are still ten tributes (those from Districts 2, 7, 8, 9, and 10) left to be announced. In addition, we're still waiting for news on several non-tribute characters, including President Snow, Caesar Flickerman, Madge Undersee, Peeta's parents, and Katniss' style team (though it's been speculated that Tucci and Kravitz could be playing Cinna and one of his assistants, respectively).
Lionsgate's PR team is really doing an excellent job of sustaining interest in the film's casting process — they've been steadily revealing information on minor parts over the past couple of weeks, while releasing news on bigger roles just often enough to ensure that we don't get bored. At any rate, the cast seems to be filling out nicely. I like the choices the filmmakers have made for the major roles so far, and the tributes we've seen look appropriately young but tough.